world-News
"We live in a boat that survived Dunkirk and an IRA bombing"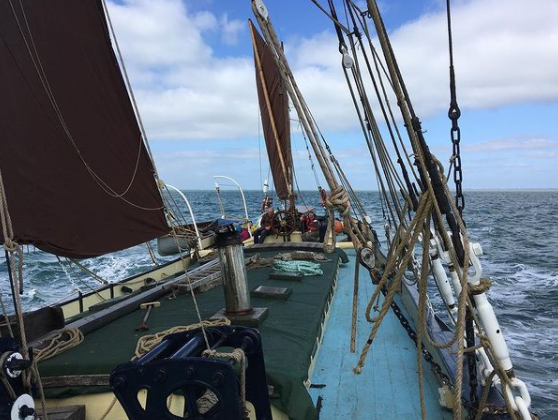 I used to live in an old warehouse and then an old handbag factory, both in London. I'm a theater designer and I've always liked unusual properties and the idea of turning a space into something else. In 2009, I was researching online for work and I saw a boat that was on sale for $28,000 (£20,000). I remember saying to my partner, "we could buy a boat!" I just didn't think we would ever be able to afford a house.
We both became interested in boats but thought that before we jumped into buying anything, we should rent to see what it was like. We wanted to make sure it was for us.
We had a friend who was renting a boat, a Thames Lighter barge, at a moorings in London, so we went to visit and completely fell in love. Then, a back cabin became available to rent in a different boat nearby. It was a luxe motor barge and was a beautiful space, with wood panelling and stained glass, but it was really tiny. We had friends tell us afterwards that they had decided if we could stay together living like that, we were probably going to stay together for good.
We rented it for about 18 months, and started to look for boats to buy in 2011. We then saw this wooden Thames sailing barge advertised. We'd already heard that Thames barges were really expensive and hard to keep up, so we went to look at it with the same attitude you would have if you arranged to view a multi-million pound house you couldn't afford. We just wanted to see what the craziest option out there was. But we immediately fell in love with it.
It was originally on sale for $83,000 (£60,000) which was way more money than we had available. Then, six months later, we saw it advertised again for half the price. It suddenly became feasible for us, so we begged, borrowed and scraped together all the money we had in the world and bought a completely empty boat.
S.B Tollesbury, the name of the barge, has had the craziest life. It was built in 1901 and used to transport goods along the Thames River. Then, during the Second World War, Tollesbury ended up taking part in Operation Dynamo, where stranded Allied soldiers were rescued from Dunkirk in 1940. In May of 1940, a number of wooden sailing barges were requisitioned by the British Navy to sail out to Dunkirk to be used as platforms.
They have shallow bottoms so they could be lined up and soldiers could use them to access bigger boats and be taken back to Britain. The barges were meant to be left at Dunkirk, but when the S.B Tollesbury arrived, there were so many soldiers wading into the water to be rescued that the skipper of the Tollesbury, a man called Lemon Webb, and his crew made the decision to transport soldiers back on the barge. They returned around 270 soldiers to the U.K. from Dunkirk.
The boat had quite a substantial rebuild in the 1990s in an English town called Ipswich and then it was taken to the London Docklands where it became a pub. Then, in February 1996 the Irish Republican Army (IRA) planted a 3,000lb (1,360kg) bomb that exploded at the London Docklands close to where the Tollesbury was moored. All of the windows shattered and the blast apparently ripped the deck off. Fortunately it was repaired and continued to trade as a pub, but then it actually sank in 2004. There are pictures of just the front sticking out of the water. So the Tollesbury really is a survivor. There have been times when people even come up to us and say they used to be the skipper and tell us a little story about it.
After we bought the boat, we were planning to carry on renting an apartment in London while renovating the boat to the point we could live in it. But we realized after about a week that we couldn't afford to do that and we had to move into it straight away.
You hear about people who buy boats, cover the deck in fiberglass or whack a caravan on top. But we knew right from the beginning that we wanted to restore it and honor its traditional aesthetic. We were moored in East London on an industrial estate so we had cranes available and it was really easy to do major work, but we didn't have a grand plan and we designed and renovated it all ourselves.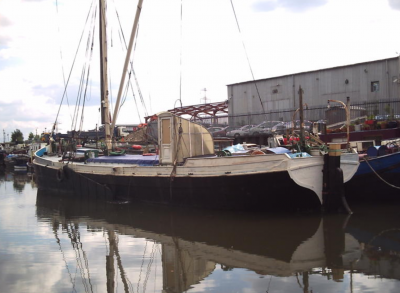 We started by getting a group of friends over and bleaching the whole boat, because it had some mould. We cleaned it all the way through and ripped out some of the walls left over from the pub. Then, we decided where we wanted our back cabin, which we planned to rent out. We built the bathroom unit for that, then built its double bedroom and installed a kitchen for it and built the walls that divided that space from our home.
Everything is over one floor and our home is underneath the deck, so we don't have a view but we do have skylights.
The most expensive element was the tongue and groove wood for the interior walls of all the rooms we built into the boat. Pretty much everything else we have bought through eBay. We spent about five years doing crazy trips to collect purchases. Our bath is a cast iron roll top bath I bought for $28 (£20) from a farmhouse in Wales.
Our home in the boat is made up of an open plan kitchen-lounge and then a double bedroom and our own bathroom. We do have a spare room that I have been using since the pandemic began as an office for my new business; creating naturally dyed sustainable face masks and homewares. We've gone with as big and open a space as possible.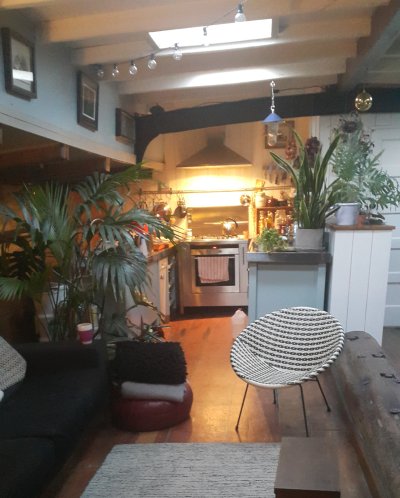 It has cost more than we imagined to begin with, but in total we have probably spent around $111,000 (£80,000) since we bought it. But $83,000 (£60,000) of that was for work on the hull and the deck. We spent about $28,000 (£20,000) on the interior renovation because we had time to wait for affordable items, like a couch we bought online for $140 (£140). In total we've spent $167,000 (£120,000) buying and renovating the boat, but we now have a home in London and we are moored by apartments that can sell for as much as $9.7million (£7million).
There are all sorts of skills that I would never have learned if I wasn't making a boat my home. I feel so much more capable and strong as a person. That is such a precious gift that I don't think I would have had if we had just bought a traditional house and re-decorated it. Being more involved has been amazing, but, of course, there are challenges.
We dry dock the boat every two years and that's when you find all the rot. We step back, feel a little blue and say that we're going to have to sell the boat because we can't afford to keep it and it's too much work. Then we wake up the next day, look at the view and think: isn't it lovely.
After the first four years of owning the boat, we moved to Kent and stayed there for four years, but I'm a London person. Then it happened that a mooring came up in London two years ago. It's the area I'd always wanted to take the barge to. It was our dream to come back here so it's been really amazing. It's an amazing community here and a really nice place to be.
At this stage, I can't imagine ever living in a house again. For all it's trials, I love the boat so much.
Rachael Smith lives and works from S.B. Tollesbury, a restored Thames sailing barge moored in London. She founded Cocoon in 2020, a company selling naturally dyed sustainable face masks and homewares.You can follow Cocoon on Instagram @cocoonnaturaldye and the S.B. Tollesbury @s.b.tollesbury.
All views expressed in this article are the author's own.
As told to Jenny Haward.
Most Related Links :
todayuknews Governmental News Finance News