world-News
Service dog in training melts hearts online—"Doing the best job"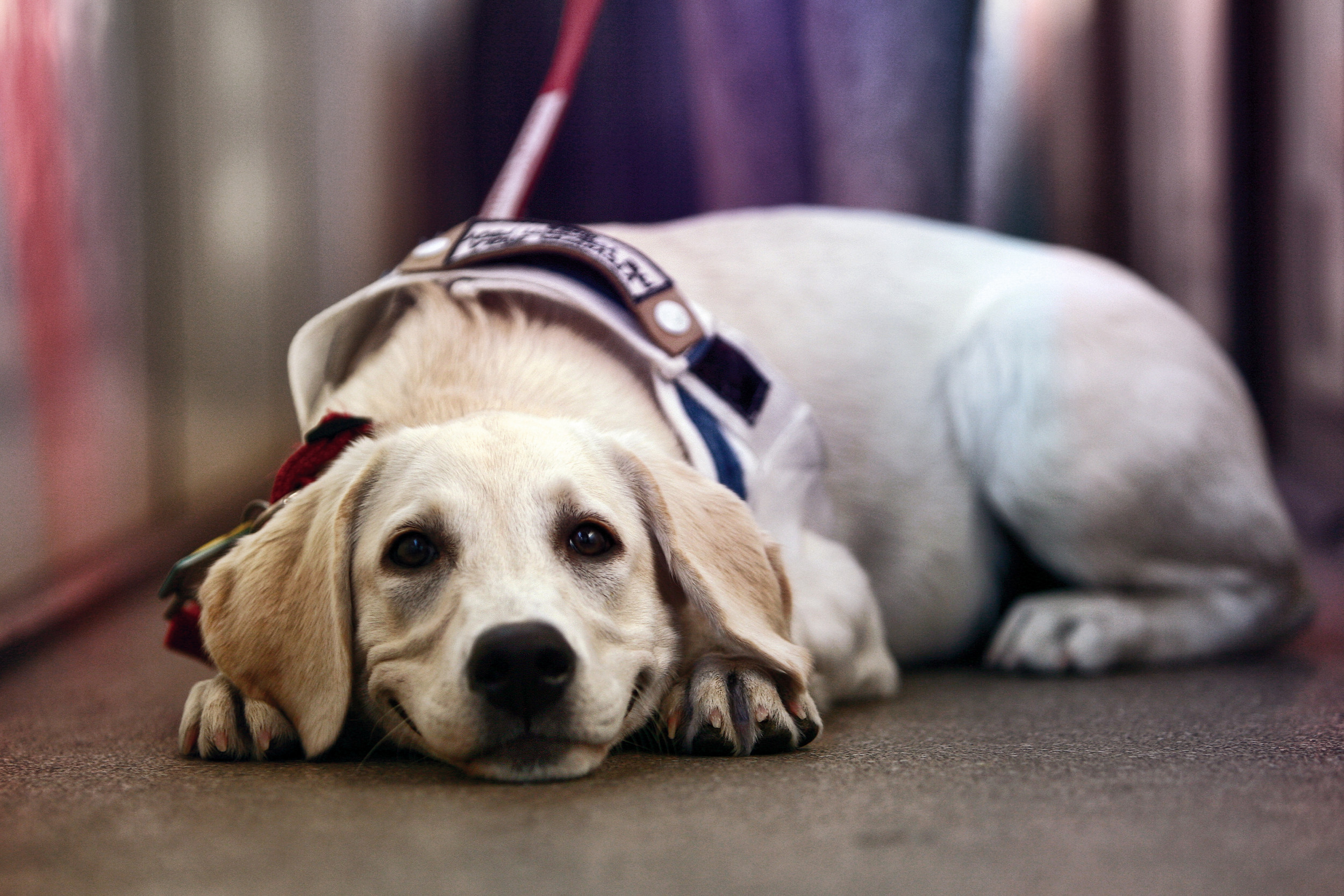 Puppies aren't well known for being on their best behavior, but one puppy on TikTok has delighted viewers after "guarding" her owner while they used the bathroom.
Eight-week-old Moxie is a Black Labrador and golden retriever mix who is training to be a service dog with the help of her humans Emma and James. Sharing their journey on TikTok under the handle moxiesadventures, the pup has more than 62,000 followers who love watching her antics.
In a recent video, Moxie guarded her owner while she used the bathroom in adorable footage first posted on April 1. Re-shared on Reddit on Wednesday, the video has attracted more than 17 million views on TikTok and over 29,000 upvotes on Reddit.
Although there are no precise numbers available, it is estimated that there are approximately 10,000 guide dog teams currently working in the U.S. and more than 5,000 animals serving the hearing impaired across the country.
According to the most recent data from the Centers for Disease Control and Prevention (CDC), roughly 61 million Americans are living with disabilities—equating to around 26 percent of the population. But less than 1 percent of those affected by disability are able to work with service dogs due to a mix of availability, costs, and barriers to access.
The adorable video has melted hearts online. One Reddit user wrote: "Hardest working puppo award goes to," while another said: "Killed me with cuteness."
On TikTok, viewers were equally enamored by the adorable puppy. One commenter said: "I'm impressed, at 8 weeks old my puppy was destroying my house while I peed!"
Another viewer wrote: "She is honestly doing the BEST job here," and one commenter said: "I would die for that dog. Not to be dramatic."
Several commenters mentioned the service dog's 'Do not pet' harness. "'Do not pet'— most devastating but understandable rule ever," said one user.
Petting service dogs, while they are working, can be distracting. Anything Pawsable, an online magazine for service and working dog owners, stress the importance of never distracting an assistance dog. They state: "This means, no petting, no talking to, no saying his/her name, no eye contact, and no action to attempt to get the dog's attention."
For those worried about the precious pup's downtime, Moxie's owner shared a video of her off-duty time—running around the office and getting plenty of pets.
In March, another viral clip showed how a service dog helped their owner when in distress. Service dog Bailey came to the aid of owner Katie in the video that has been viewed millions of times.
Newsweek has reached out to moxiesadventures for comment.
Most Related Links :
todayuknews Governmental News Finance News