world-News
Photo of Trump documents spread over Mar-a-Lago carpet sparks ridicule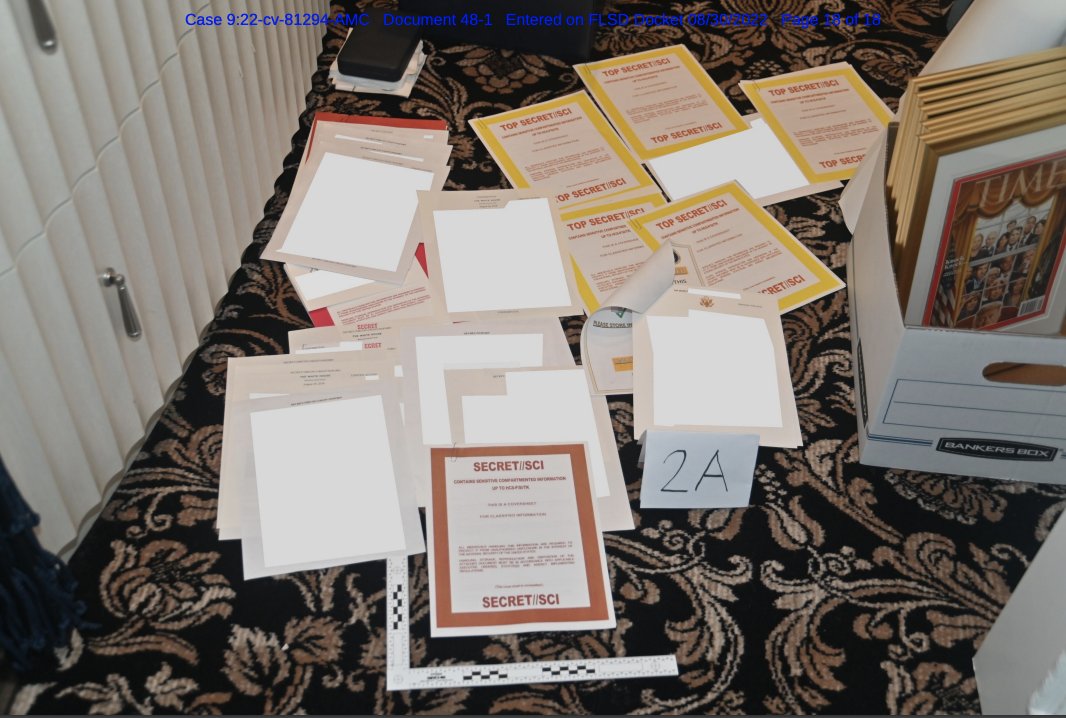 A photograph of classified documents spread across the floor of former President Donald Trump's Mar-a-Lago office has been widely shared on social media, with commentators mocking Trump's carpet and "interior design aesthetic" on Twitter.
The photo was included in a new 36-page court filling released by the Justice Department on Tuesday night.
They show a number of official documents, some of which bear the markings "Top Secret" or "Secret", scattered over a dark floral carpet. A box of other items sits to one side, including a framed Time magazine cover from 2019 showing Trump's Democratic challengers peering through the White House window at him.
Politico White House reporter Max Tani retweeted the photo, adding: "The ugly floral commercial carpet, the gold framed covers of Time magazine. Trump has an interior design aesthetic he's been committed to for like 40 years."
Writer and graphic designer Rob Sheridan also retweeted the image, commenting: "Stolen classified documents laid out on the gaudiest 80s casino ass carpet imaginable is a perfect picture of the Trump story."
Symone D. Sanders-Townsend, a TV host who previously served as chief spokesperson to Vice President Kamala Harris, added: "1) I cannot believe pictures of these documents are on the internet. Truly I would have never imagined this when I worked at the WH. 2) WTF is going on with this carpet?!?"
Trump is being investigated over a number of possible federal law violations, including the Espionage Act, after allegedly failing to return papers acquired during his presidency to the National Archives.
The former president insists he did nothing wrong, and that he had previously declassified all the material seized by the FBI when they raided Mar-a-Lago on August 8 and seized 20 boxes of documents.
The 36-page court filing included comments from Justice Department counterintelligence chief Jay Bratt, who said evidence uncovered in the FBI raid "casts doubt" over the level of cooperation provided by Trump.
He wrote: "The government also developed evidence that government records were likely concealed and removed from the Storage Room and that efforts were likely taken to obstruct the government's investigation.
"That the FBI, in a matter of hours, recovered twice as many documents with classification markings as the 'diligent search' that the former President's counsel and other representatives had weeks to perform calls into serious question the representations made in the June 3 certification and casts doubt on the extent of cooperation in this matter."
The June 3 certification refers to a meeting at Mar-a-Lago on that date between the FBI and Trump's team, during which some official documents were handed over.
Trump is expected to respond to the Justice Department filling by Wednesday night, ahead of a hearing that District Court Judge Aileen Cannon has called for Thursday afternoon in West Palm Beach.
On Sunday Michael Morell, the former CIA deputy director, warned that the classified documents in Trump's possession could have been targeted by foreign intelligence services.
Appearing on CBS News' "Face the Nation" he said: "So, I think they were vulnerable, even at the White House, since they seem to have been mishandled at the White House as well, right? We have to look at that, as well as Mar-a-Lago.
"So, there's a lot of spying going on in Washington, right? And if you're a foreign intelligence service, and you want to target the United States government, what's the number one place you want to target? The White House."
Trump has been approached for comment.
Most Related Links :
todayuknews Governmental News Finance News