world-News
Never sip cold coffee on the go with this heating travel mug & charger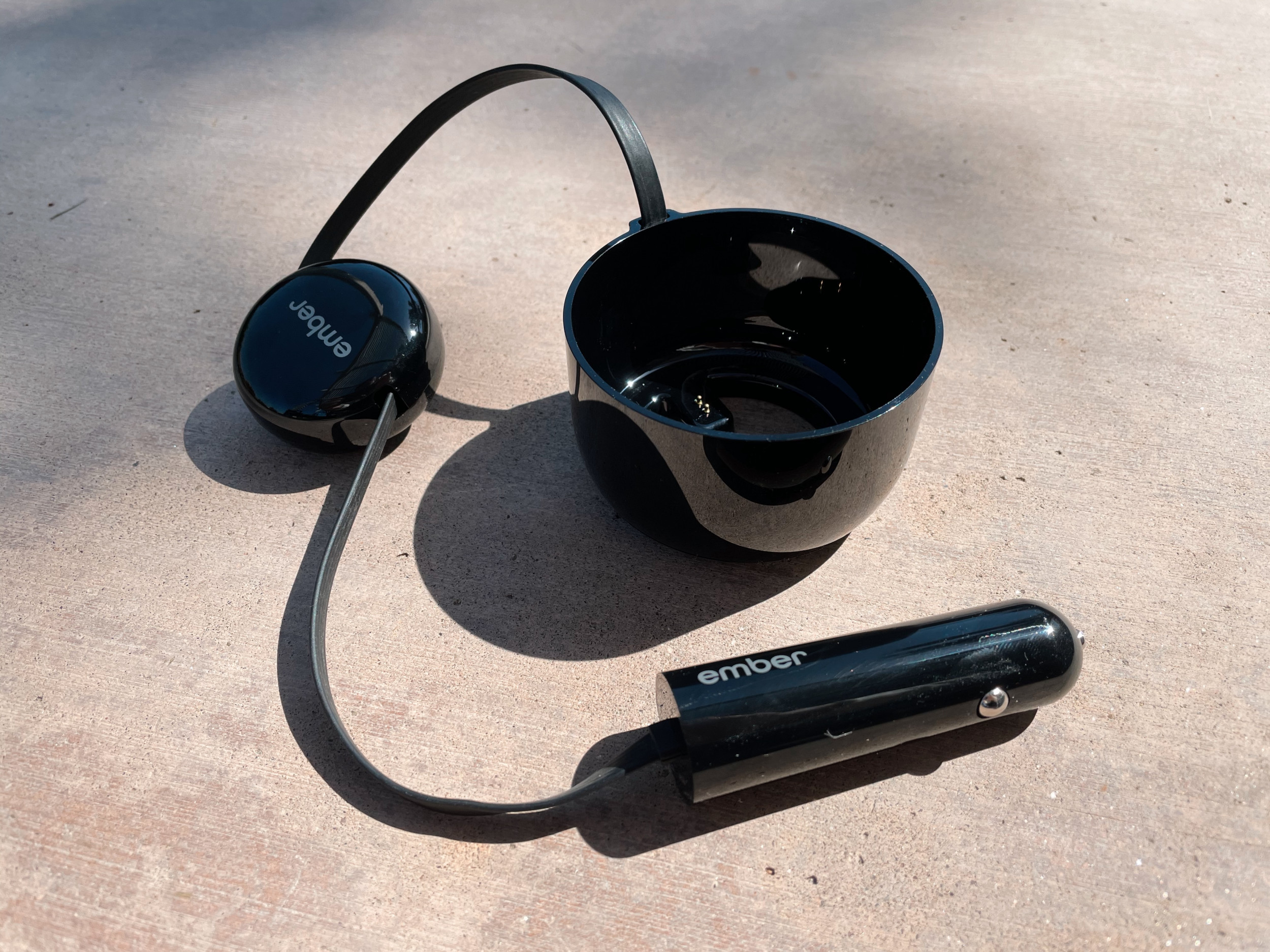 I sip my morning coffee slower than its temperature naturally drops. If I'm drinking from a typical ceramic mug, it's almost always cold by the end. Drinking coffee is a race I typically lose. Ember's temperature-controlled mugs basically solved this problem for me. Each model contains a battery to keep your coffee hot. They also include Bluetooth connectivity to sync with an app for direct control over temperature and other features.
To ensure you have as long as you need to drink your coffee hot, each mug comes with a saucer-like charger that plugs into the wall. In a similar move to extend battery life indefinitely on the road for both of its travel mugs, Ember now has a car charger. In theory, this is a perfect accessory for fans of Ember.
I went hands on to see if the Travel Mug2 and the new $49.95 car charger are a perfect pairing for coffee addicts, away from home, out on the road.
Design and Setup
The Ember Travel Mug2 is the company's newest way to carry coffee. Unlike its standard Mug2 with no lid, this one is enclosed to avoid spills while moving around. It also features an integrated display to show your personalized name, temperature, and battery level readouts. The first generation Ember Travel Mug does similar tasks, but this second version improves on usability and packs a longer-lasting battery.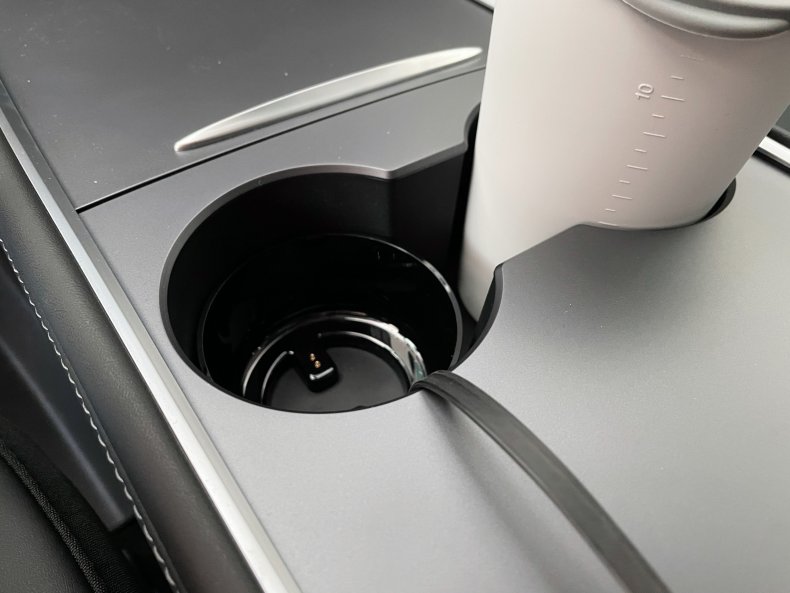 It's really nice that both travel mugs from Ember are compatible with the car charger. The first-gen mug is no longer being sold, but plenty of people likely still use them. These products aren't cheap. Letting early adopters of the first product continue to use it in new ways with new accessories is great.
You may be wondering if the Travel Mug2's advertised 3-hour battery life is sufficient for most people. In general, yes. It should be long enough to finish the 12 ounces of coffee it holds.
I know personally, however, that I tend to stress about battery life, even unnecessarily. The car charger is a way to alleviate that worry. Additionally, even though you might not need the charge for your first cup of coffee, it keeps the mug ready for refills.
Picking up the car charger also means that you might be able to leave the wall charger and charging pad at home on vacation. Compared with the car charger, the one in the box has a bulkier wall plug and larger surface area.
Simplicity is the name of the game with the Ember Car Charger. On one end is the base that sits in a car's cup holder and a 12-volt power adapter is on the other end. There's an automatic cable winder in the middle that extends and retracts as you pull on each side simultaneously. During testing, it was a product free of complications.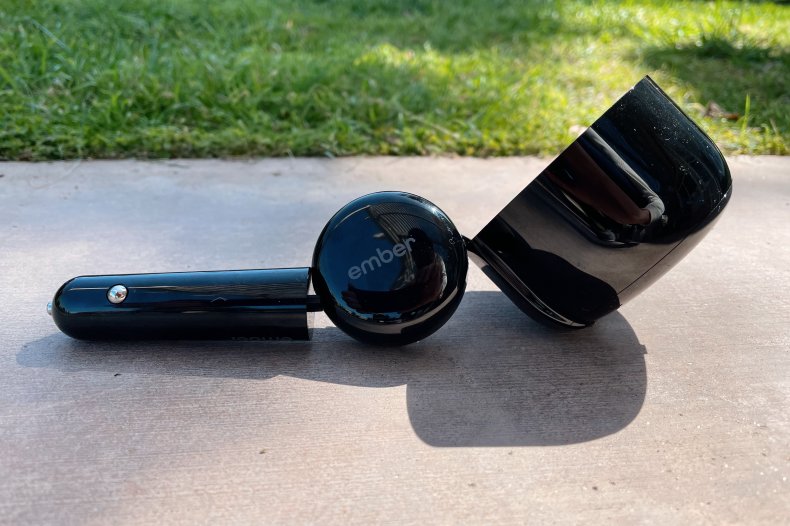 The adapter includes an LED to indicate its power state. A solid light means it's powered on. A green light shows when the mug is fully charged, and a pulsing red light means it's currently charging. That's it.
How Does the Car Charger Work?
Unlike a rounded, traditional phone cable, the cord on this car charger is squished flat. This will help it slide into cracks and crevices, if need be, and get out of the way. Of course, the layout of your car's cup holders and 12-volt adapter will still play a factor in how well Ember's Car Charger integrates into your mobile setup. It's hard to say whether it will be an eyesore or invisible.
In my car, the 12-volt power adapter is about 3 inches behind the cup holders. The interior is black to match the cable and charging base, so it wasn't noticeable. I can leave it connected if I want without disrupting the look.
To fully secure the charging base, there's a small bit of adhesive on the bottom of it that can be uncovered. I didn't use it, because I didn't need it. I just set the base into the cup holder and placed the Travel Mug2 on top of it. I never had the problem of the base sliding up a little when picking up the mug. Your mileage may vary, and you may want to use it, but likely it won't be necessary. The middle cord winder also has a bit of adhesive on it if you want to secure it somewhere.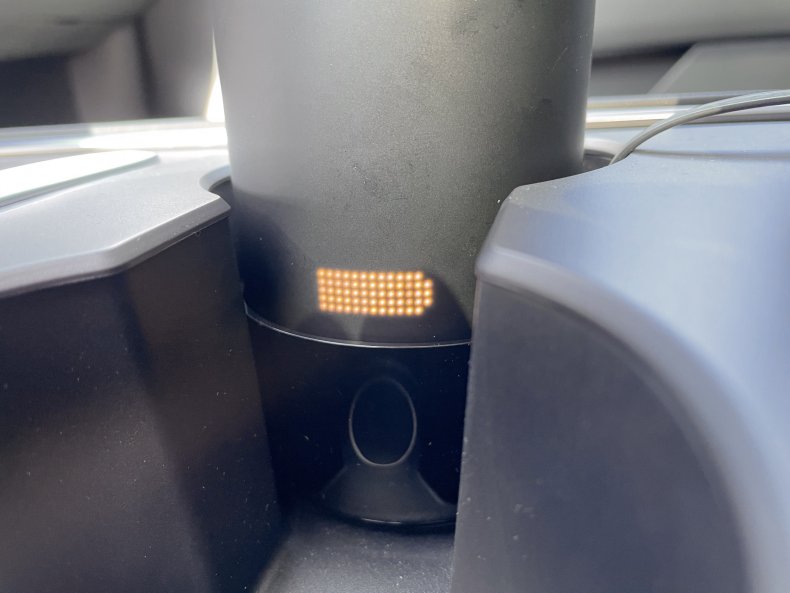 Charging kicks in moments after setting the mug into the charger. It seems to recharge the mug around the same speed as it would in the home. This worked well and kept the mug constantly topped off on battery level.
The Travel Mug2 did have plenty of battery life in practice. I love its improved touch controls to adjust the temperature, too. Overall, Ember makes a great coffee mug to travel with and take in the car. It's less useful if the battery is dead, however, so this new accessory is a great addition to the product line.
Should You Buy the Ember Car Charger?
I grew attached to Ember's temperature-controlled mugs very quickly. Before trying them I thought these products would be superfluous. After using them daily, I find their functionality almost inescapable. I really prefer sipping coffee at a constant temperature rather than being surprised each time I bring the cup to my mouth.
The Ember Car Charger is a fantastic accessory for either model of Ember Travel Mug. Even if you don't plan to use it regularly, it's one of those pieces of gear that comes in clutch when you do need it. It can be a great regular commuting partner or just a neat travel accessory several times a year. Once you're in Ember's cult with its travel mug, it might just be a needed expense.
Newsweek may earn a commission from links on this page, but we only recommend products we back. We participate in various affiliate marketing programs, which means we may get paid commissions on editorially chosen products purchased through our links to retailer sites.
Most Related Links :
todayuknews Governmental News Finance News