world-News
Matt Gaetz sparks outrage over hosting high school event: "Absolutely vile"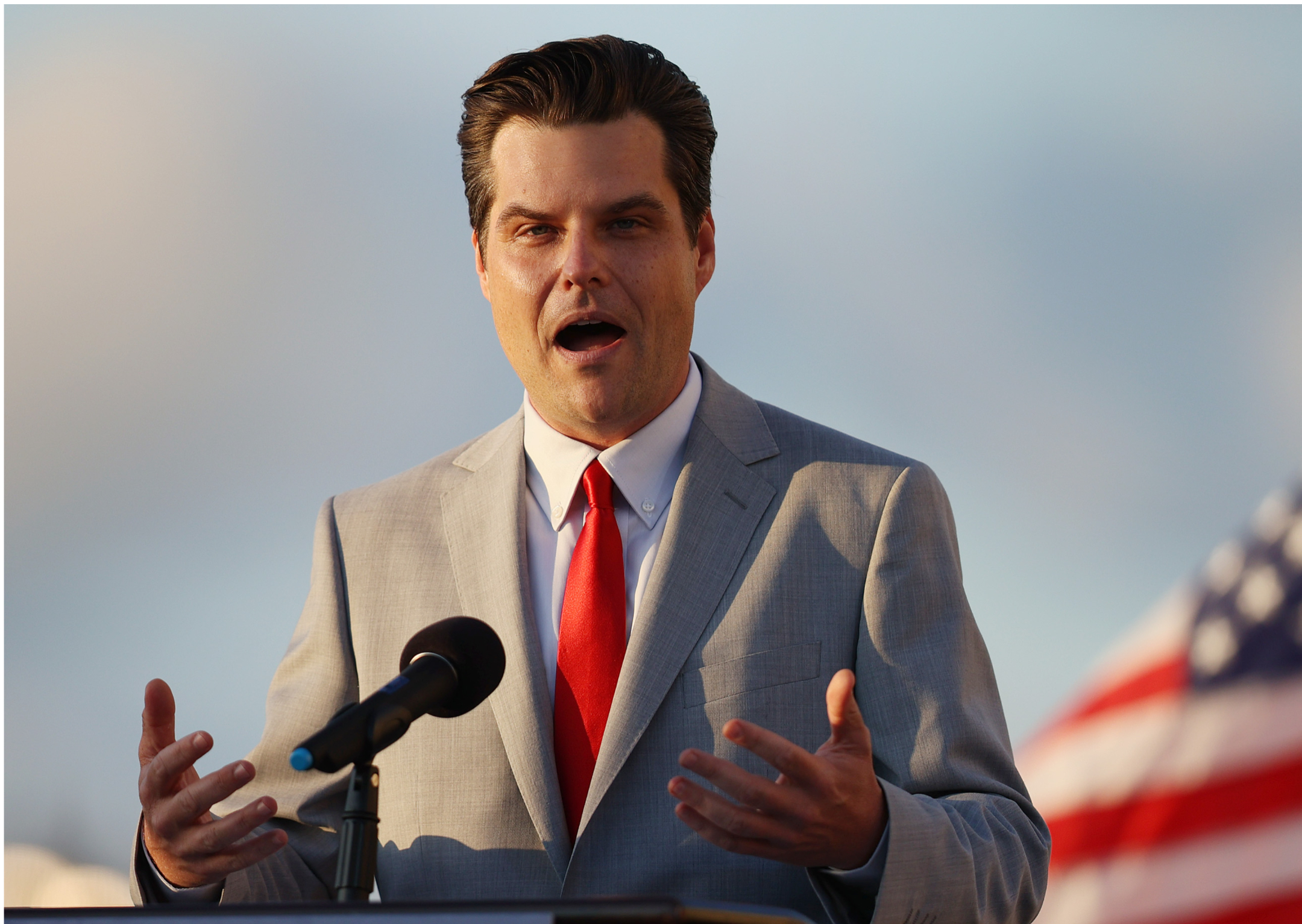 Florida GOP Representative Matt Gaetz, who is being investigated by the Justice Department in connection with the sex trafficking of a 17-year-old girl, has sparked outrage after it emerged he would host a high school event in his state.
Gaetz is due to appear Tuesday night at the annual Academy Night at Niceville High School, where students typically learn about how they can attend U.S. service (or military) academies.
In a post on his Facebook page, Gaetz said: "The Academy Night is an opportunity for high school students to speak directly with Congressman Gaetz and Service Academy representatives to learn more about the process for gaining admission to the U.S. Service Academies and receiving a Congressional nomination (required for entry).
The post added, "All high school students, JROTC (Junior Reserve Officers' Training Corps) groups, parents, principals, and teachers are invited to attend this event to learn more about entry to the U.S. Service Academies."
But Gaetz's scheduled appearance alongside high school students has drawn strong reactions from some Florida residents who have expressed anger that someone under federal investigation should attend the event in person.
The controversial Republican has been engulfed in scandal since The New York Times revealed he was being investigated by the Justice Department. Officials opened the probe following a previous investigation into Joel Greenberg, a friend and ally of Gaetz's, who pleaded guilty last year to sex trafficking of a minor and other federal crimes.
Gaetz has denied any wrongdoing and said investigations of him are part of a government operation against him and like-minded Republicans.
The allegations against Gaetz and his slated appearance at Niceville High School, prompted Cara Marion, a candidate for the Okaloosa County School Board, to ask: "What message are we sending our kids?"
Marion added that numerous people had contacted her about Gaetz's scheduled appearance at the school, specifically regarding the federal investigation he is under.
In a video uploaded to Facebook on Saturday, Marion said: "These are men and women who have gotten a hold of me actually. And so, what they've said is they're very displeased with the fact the Okaloosa County School District is agreeing to have Matt Gaetz, who is under investigation for sex trafficking and also for rape of a minor because that's what it is when it's not consensual. You can't consent to it as a minor."
She later added: "So, it's very confusing, when you have a Congressman [who's] under investigation for crimes against children to come into our high school and talking to young women and young men. It sends a very mixed message."
Marion added that Gaetz's previous comments about women—most notably when he made remarks, later called misogynist, about abortion rights activists to an audience at the Turning Point USA Student Action Summit in Tampa, Florida, last month—had raised further concerns for her.
The school board candidate added: "I'll tell you right now, if my daughter was looking to go to a service academy I would not be having her work with Matt Gaetz."
She added, "Just from literally the comments he made about women who men wouldn't even want to sleep with them so they wouldn't even get pregnant to even consider having an abortion because he said they look like a 'thumb.'"
She continued: "But to put kids in a position where they are going to have to ask this person for a favor, if you will, 'hey, can you pick me.' What message are we sending our kids?"
Marion is not alone in her condemnation of Gaetz and the Okaloosa school district's decision for him to host the high school event.
Women Against Matt Gaetz, a Facebook group with nearly 10,000 members, will hold a press conference outside the Okaloosa County School Board Central Administrative Complex at 11:30 a.m. ET Tuesday, where they will be "addressing the safety of students."
An advertisement for the press conference read: "Gaetz must suspend Congressional duties with minors." It called on Congress to "direct Matt Gaetz to step aside while the investigation for alleged sex trafficking a minor are ongoing."
The outrage against Gaetz's scheduled appearance also made its way online to Reddit.
In a viral post shared in the 13.4 million-strong r/TwoXChromosomes group, user TipsyRussell shared an email she sent to Okaloosa Schools Superintendent Marcus Chambers.
Part of the email read: "It is absolutely vile that the school system would invite someone currently under investigation for rape and sex-trafficking into the school to speak to 17-year-old girls and put them in a position where they have to ask him for a favor."
The email went on: "This investigation has been ongoing for a long time, so the county has had plenty of time to come up with an alternative to allowing him to speak at the school. Any information he needs to give out can easily be done via email or even a Zoom call with interested students and their parents.
TipsyRussell continued: "It seems to me that the school system should not allow someone under investigation for sex with minors anywhere near a school, if for no other reason than out of an abundance of caution. Instead, however, you are quite literally giving him access to potential new victims, and directing them to ask him for something.
"I would think that the safety of students would be a top priority for Okaloosa County, but this decision leads me to believe otherwise. If a teacher is under federal investigation for sex with a student, does that teacher stay in the classroom teaching while the investigation is ongoing? I'm fairly certain I know the answer," TipsyRussell said.
Since being shared on August 9, the post has been upvoted some 38,200 times, and many of the 868 commenters shared the poster's concern.
A copy of TipsyRussel's forwarded email has been seen by Newsweek.
Newsweek has contacted Gaetz's office, the Okaloosa County School District, Chambers and Marion for comment.
Most Related Links :
todayuknews Governmental News Finance News