world-News
Hurricane Ida Live Cam: Watch as New Orleans, Gulf Coast prepare for dangerous storm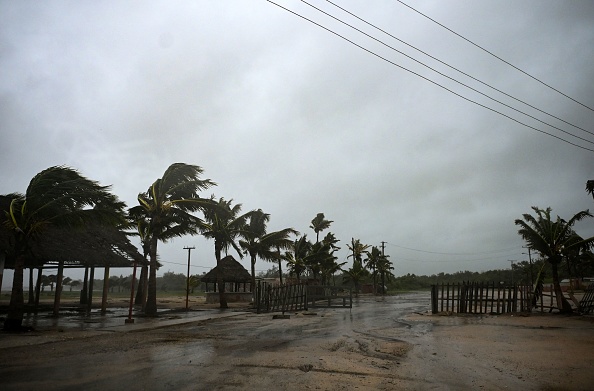 Residents along the Gulf Coast are preparing for Hurricane Ida, which is gaining strength and expected to make landfall Sunday as a dangerous, and possibly deadly, storm along the Louisiana and Mississippi coastlines. Folks from Lake Charles to Mobile are bracing for heavy flooding, high winds, storm surges and possibly tornadoes.
Ida is forecast to make landfall as either a Category 3 or 4 storm on Sunday, Aug. 29, which is the 16th anniversary of Hurricane Katrina's devastation in the same part of the Gulf.
The latest forecast at 1 p.m. CT on Saturday upgraded Ida to a Category 2 storm with sustained winds of 100 mph. The next forecast by the National Hurricane Center (NHC) will be at 4 p.m. Storms hit category 3 status when the sustained winds are at least 111 mph, and Category 4 storms begin at 130 mph.
"Ida is expected to be an extremely dangerous major hurricane when it reaches the coast of Louisiana," the NHC stated. "There is a danger of life-threatening storm surge inundation Sunday along the coasts of Louisiana and Mississippi within the Storm Surge Warning area."
As of Saturday afternoon, meteorologists believe Ida will make landfall in Plaquemines Parish and move north into New Orleans. Officials in Plaquemines, Terrebonne, Jefferson, Lafourche and St. Charles parishes have ordered mandatory evacuations, with only portions of Plaquemines Parish under its mandatory order.
New Orleans is not under a mandatory evacuation. New Orleans Mayor LaToya Cantrell said Friday that even though Ida "presents a dramatic threat" to her city, "time is not on our side … the city cannot issue a mandatory evacuation because we don't have the time."
Here's a live cam from the city of New Orleans to watch the winds and rain as they begin hitting the city Saturday night.
New Orleans, Louisiana
Meanwhile, here's the scene about an hour to the east in Biloxi, Mississippi, which should get dangerous winds and heavy rains.
Biloxi, Mississippi
The New Orleans Saints canceled its final preseason game that was set for Saturday night at Caesars Superdome against the Arizona Cardinals. The Cardinals have safely returned back to Arizona.
Ida formed as a tropical storm in the Caribbean Sea a few days ago and gained intensity as a Category 1 storm Friday as it moved over Cuba. The storm is moving across the warm waters of the Gulf of Mexico, which will make it get even stronger during Saturday afternoon and evening.
By Saturday afternoon, as the storm was moving northwest of Cuba, the outer bands reached from Cuba to Lafayette, Louisiana, and all the way east to the Naples and Fort Meyers region of southwest Florida.
Hurricane Katrina took a similar path as Ida in 2005, moving over South Florida and the Florida Keys as a Category 1 storm before quickly growing into a Category 5 storm aiming for New Orleans. Katrina dropped in windspeed and eventually shifted east and battered the Mississippi coast as a high-level Category 3 storm, wiping out towns like Pass Christian and Long Beach.
Katrina's rainfalls in southeast Louisiana, and specifically New Orleans, caused a levee to breach, completely flooding the city's Ninth Ward, some houses with water on the second levels.
Most Related Links :
todayuknews Governmental News Finance News