world-News
'Hero' bartender goes viral with fake receipt to 'save' women from creep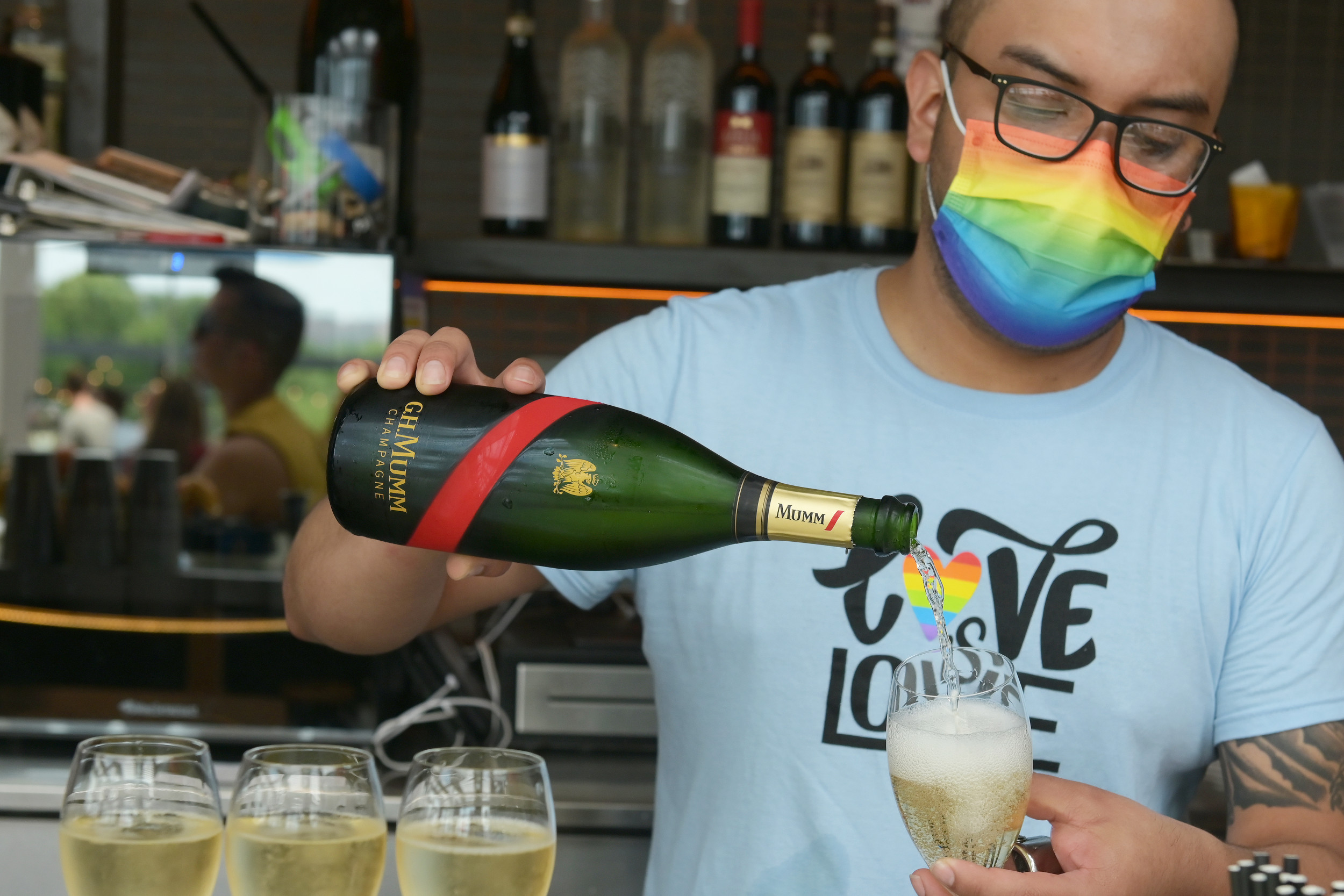 This bartender has some major customer service skills, according to thousands of fans on Twitter.
A woman's recent trip to a Florida bar turned sour after she and her friend were made to feel uncomfortable by a male patron. However, a bartender at the establishment came up with a genius way to see if the women needed any help.
Twitter user Trinity, under the username @trinityallie on the platform, posted her now-viral tweet about the situation on June 13. She reported that a man at No Vacancy in St. Petersburg, Florida was making them both uncomfortable when her bartender Max Gutierrez stepped in.
"This man was harrassssing me and my friend and the bartender passed this note to me acting like it was my receipt ! Legit the type of bartender everyone needs," Trinity's caption read.
Gutierrez, who posed for a photo after the incident was resolved, shared what the "receipt" read: "If this guy is bothering you, put your ponytail on your other shoulder, and I will have him removed. He's giving me the creeps."
In a follow-up tweet, Trinity noted that Gutierrez had "to literally yell at the guy" to get him to leave. "He said 'you need to get [the f**k] away from these girls who clearly are not interested' & the dude said 'that was a little aggressive' and he said 'well ur aggresssively hitting on them & you need to leave.'"
Since posting, the tweet has been liked by over 211,000 users and retweeted nearly 45,000 times. Twitter users fled to the comments to praise Gutierrez's quick-thinking skills.
"Not all heroes wear capes. Some wear Hawaiian shirts," one person joked, referencing his fun choice of work attire. "He's a guardian angel. We need more people like that in the world. Glad you and your friend are safe," another noted.
Some women shared their own horror stories while out for drinks, reflecting that they would have been very grateful for a bartender like Gutierrez.
"Saw some dude at the bar the other day literally talking to ANY woman he saw standing alone, even if the woman's boyfriend/friends were at the bar ordering or in the bathroom. Almost got into a fight with a dude for creeping on his girlfriend," one person shared. "I love this action. Please bartenders: take note and take actions to help. Thank you, barkeep, you've won my heart," another added.
One user noted that other bars have similar protocols for customers in danger. "Most bars do this or should. Ordering an Angel Shot is code that you need help. You will be escorted to a car/taxi/uber or the person bothering you will be escorted to the exit," he tweeted. "The more you know."
Trinity later shared a screenshot from a Reddit thread about the situation that Gutierrez offered insight into. He said that he realized the female customers were uncomfortable thanks to the life lessons from other bartenders who trained him.
"It's something you just pick up from mentor bartenders. Eventually you become pretty good at reading people, body language etc.," he explained. "This guy was giving off pretty weird vibes for quite a while, kept an eye on him, try to give him a chance, try to let the girls tell him no and leave it at that, but he didn't take no for an answer and kept pestering them so eventually I kind of yelled at him and made him leave lol.
"I honestly don't like yelling at customers or embarrassing people, but I find it's one of the best ways to handle creeps," he added. "Calling them out in front of people is usually enough to get them to turn tail and walk away. I just don't need my guests feeling uncomfortable."
In addition to sharing his side of the story on Reddit, Gutierrez updated Twitter fans that the same customer attempted to enter the bar during a recent shift.
"Fun update, the guy I kicked out Sunday night came back to the bar JUST NOW for a beer, told him I wouldn't serve him," he reported.
Newsweek reached out to Gutierrez and Trinity for comment on the situation, but neither immediately responded in time for publication.
Trinity's night out went much more smoothly than another viral incident at Kid Rock's bar in Tennessee, after police confirmed with Newsweek that a man swung his used colostomy bag around, leaving several responding officers covered in fecal matter. Kid Rock himself was also recently slammed for allegedly shouting a homophobic slur at another bar in Tennessee earlier this month.
Most Related Links :
todayuknews Governmental News Finance News