world-News
Fire engulfs aviation college in Russian town hit by blast days earlier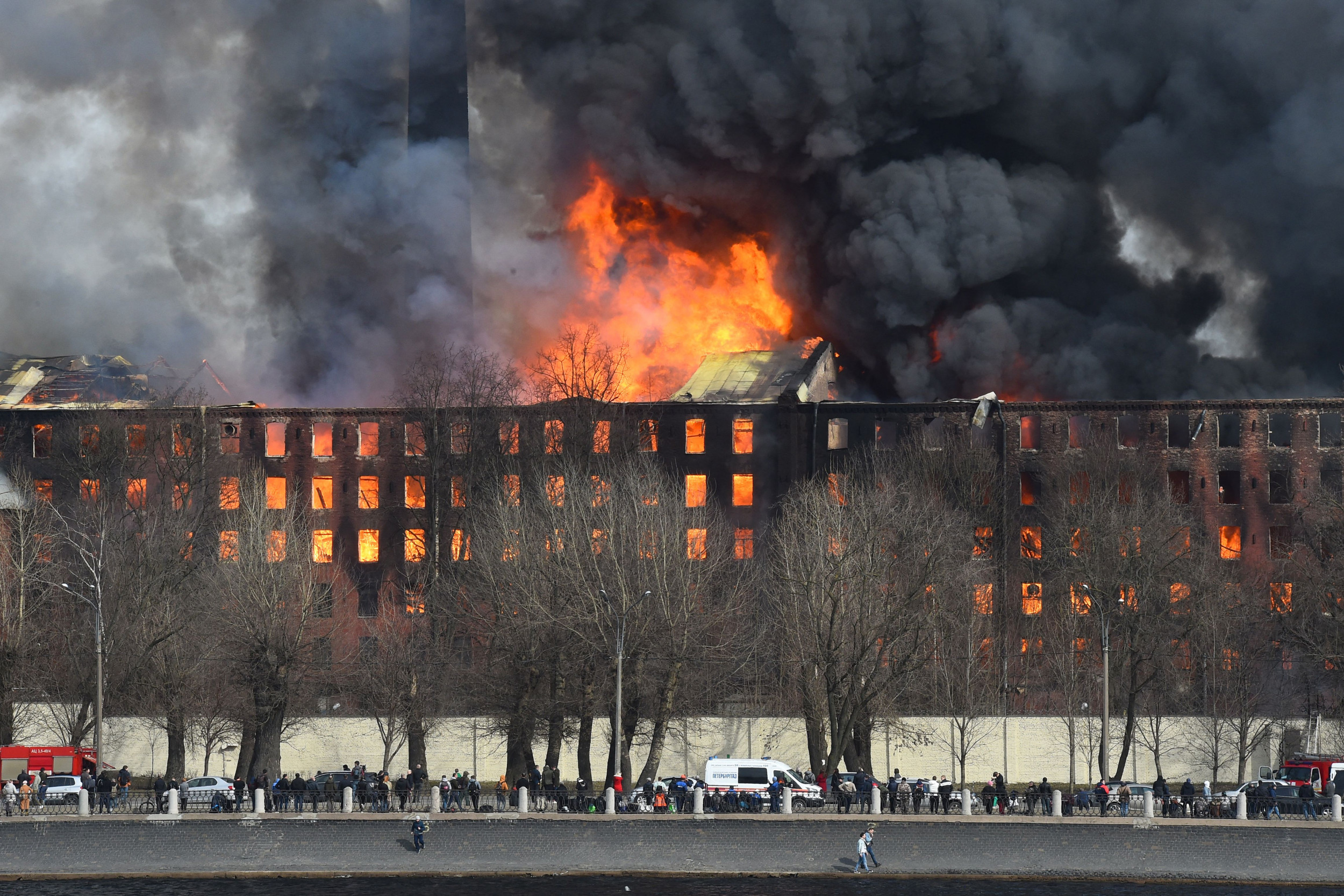 A fire engulfed an aviation college on Sunday, just days after an ammunition plant caught fire in the Russian town of Perm amid the country's ongoing invasion of Ukraine.
Russia has seen several mysterious fires break out in various buildings, warehouses and other places since April, raising concerns from some that Ukraine could be responsible, though leaders have not claimed responsibility.
Sunday's fire in Perm, a city of more than 1 million people, which is located more than 700 miles from Moscow near the Ural Mountains, appeared to break out at a construction site where the school was being built in the city center.
Videos posted to social media showed massive billows of smoke rising into the air. It apparently began when a heater at the construction site caught on fire, according to a translated local news report on Telegram. Nobody suffered any injuries or deaths.
The fire left the city center covered in a cloud of smoke, which could be seen across the Kama River, according to the report. More specific details about how the heater caught on fire were not immediately clear early Sunday afternoon.
Visegrád 24, a news outlet that aggregates news from several Eastern European nations speculated on Twitter about the cause of the fire, writing that there have been "too many fires recently for it all to be a coincidence."
However, neither Ukrainian nor Russian officials said the blaze was caused by Ukrainian sabotage. Newsweek reached out to both the Ukrainian and Russian defense ministries for comment.
Just days earlier, a fire at an ammunition plant in the city left two people dead.
An explosion struck the FKP Perm Powder Plant, which produces gunpowder, and caused a fire that left several people injured as well. Authorities blamed the fire on a "product" that "caught fire," but was still being investigated.
There have been several other fires across Russia since the start of last month. Ukraine has not claimed responsibility for the fires, and the causes are being investigated by Russian officials. However, some Western officials have said it would be "completely legitimate" for the fires to be carried out by Ukraine.
Other fires included one that broke out at an oil depot in Belgorod, a research center in Tver, a fuel depot in Bryansk, as well as explosions on the streets of the capital city of Moscow.
Many have raised speculations the fires could have been started intentionally by Ukrainians or their supporters inside Russia. Oleksei Arestovych, an adviser to Ukrainian President Volodymyr Zelensky, offered only a vague statement to The New York Times late last monthwhen asked about Ukrainian sabotage, saying: "We don't confirm, and we don't deny."
Most Related Links :
todayuknews Governmental News Finance News