world-News
Dig Into the Best Sandboxes for Your Backyard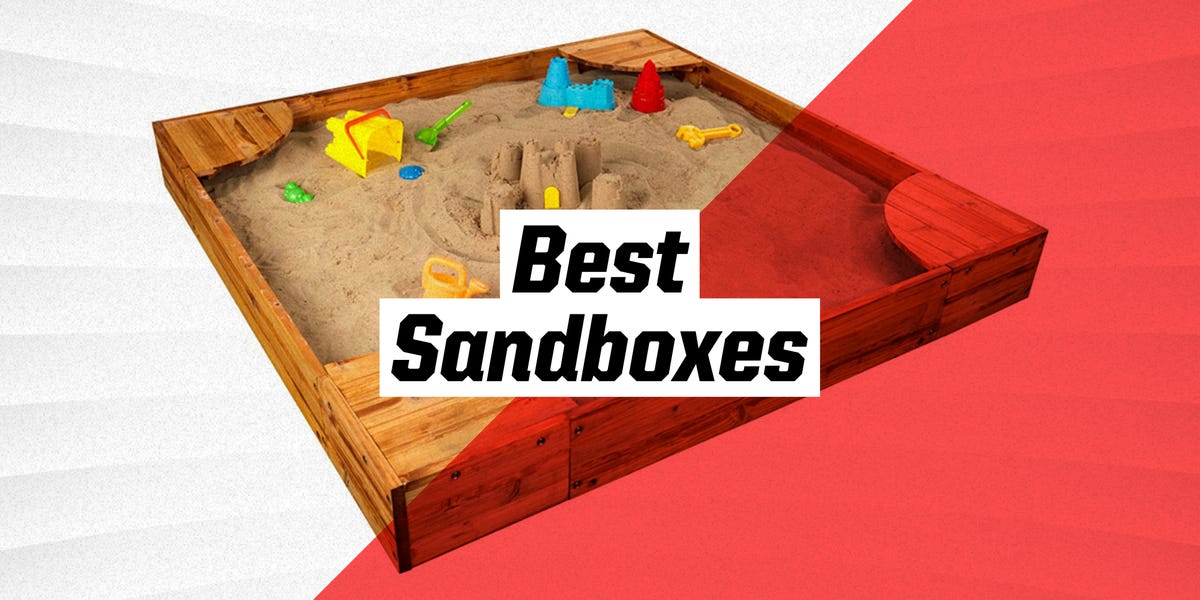 Sandboxes are to childhood what board rooms are to adulthood: it's where things get learned, partnerships are forged and businesses are launched. (The childhood version may be more fun though!) Most children love to play in the sand, but what they're actually doing is a lot more complex and useful than it appears at first glance.
As kids bury treasure, build sandcastles and fill and dump bucket, after bucket, after bucket, they are also learning simple mathematical concepts, boosting their fine motor skills, strengthening their imaginations and acquiring basic negotiation and problem-solving tactics.
What to Consider
Setting up a sandbox in the backyard beats plain old dirt and grass because its contents can be controlled by covering it and protecting it from the weather and visiting animal friends. The sand can also be changed and sifted through regularly, and the box can be disinfected.
Sizes and styles of sandboxes vary considerably, and we kept the different desires and needs of children (and their parents) in mind. The age of your children should also be taken into account, and we make a note of which sandboxes suit little and bigger kids.
Finally, when the sandbox is purchased, and when it's time to replace the sand, make sure you buy play sand, not builder's sand—as it is clean and safe for even the youngest customers.
How We Selected
We selected a variety of sandboxes that we believe will hit the mark with all sorts of sandbox enthusiasts, even the fully grown ones. We only picked sandboxes with extremely reliable warranties and excellent customer service. Plus, all of our final choices have ratings of 4.0 stars and above, and many are rated at 4.5 stars and higher.
Advertisement – Continue Reading Below
1
Best Budget for Kids
Naturally Playful, Sand and Water Table
This sandbox has everything a toddler needs to keep them busy for hours! The sandbox was designed as an all-in-one sensory table with a sand option and a water play option. 
The setup comes with a five-piece accessory set, including a water tower and "mountain" that together create a waterfall splashdown (a non-leak drain plug is included). This is also a stand-up sandbox, which is great option for the not-yet-potty-trained.
2
Cabana-Style Beach Box
Wooden Cabana Play Station
Best Choice Products
amazon.com
$149.99
This classic sandbox comes with fun accessories and is built to last. The sandbox is 50 inches long and 46.25 inches wide, with a 46.25-inch-high canopy, making it ideal for children 3 to 6 years in age. 
It is constructed from solid, stained nontoxic wood, sturdy enough for active players, with a water and UV-resistant cover to keep sand dry when it rains. On opposite sides, built-in benches allow for comfortable, seated play, and the shallow backs on the benches prevent backwards tumbles. The sandbox includes two side buckets for optional water play and the storage of digging tools.
3
For the Young Sailor
Wooden Sandboat
Costzon
amazon.com
$149.99
This whimsical sandbox is shaped like a boat, and includes a flag, sure to fuel imaginative adventures on the high seas. The boat, made from high-quality, fir is 69 inches long and 39 inches wide, with a bench designed for sitting and storage.
One major issue with the sandbox: It doesn't come with a built-in cover, which means sailors may need to clean it out after a big storm. Bottomless construction does help with drainage, though.
4
Best Classic Sanbox
Wooden Backyard Sandbox
KidKraft
amazon.com
$146.93
The simple, square, plain sandbox is a classic for a reason. At 59.13 inches by 59 inches, this sandbox is crafted from weather-resistant Sanmu wood, and is roomy enough to fit four players, from babies to age 8. It's sturdy, and the basic style will allow children to project their wildest fantasies onto the space, while also giving them a spacious area to build sandcastles and dig for treasure. 
There is a small seat at each of the four corners. It also comes with a mesh cover, making it practical for long-term use in your backyard.
5
Best Plastic Sandbox
Green Turtle Sandbox
Little Tikes
amazon.com
$130.00
This instantly recognizable smiling green turtle sandbox is an instant friend to the youngest customers. The turtle features two molded seats, but at 12 inches in height, kiddos will also love to position themselves outside of it for maximum digging fun. The interior—38.75 by 43.25 inches—provides enough space for two active tikes to dig and create. The sandbox also comes with a cover, saving the sand from the elements and animals.
6
Best Overall Play Center
Naturally Playful
Step2
wayfair.com
$311.60
This sandbox play center is perfect for older kids, ages 5-9. The spacious sandbox comes with an attached picnic table that seats four, and a removable umbrella for shade. The plastic sandbox is 32 inches long and 45 inches wide, and comes with two seats, two shovels and two pots. It is durable, easy to clean and comes with a plastic cover to protect the sand when it's not in use. Reviewers raved about the quality of construction, how busy it keeps kids, and the practicality of the added picnic table. 
7
Best for Construction Enthusiasts
Big Digger Sandbox
Little Tikes
amazon.com
$82.99
If you have young children who are obsessed with construction sites, machinery and digging, then this is the sandbox for you. The 61.74-inch-by-47-inch plastic sandbox includes a lid that doubles as a molded plastic ramp and roadway. It also comes with seven accessories, including two characters, a sand cup, shovel, sifter, rake, a crane and dump truck. 
Reviewers raved about this "great purchase" for their children who love "trucks and construction" and don't particularly like to sit in the sand.
8
Best Luxury Sandbox
Cabana Sandbox
KidKraft
wayfair.com
$281.20
If you have a large family of sandbox enthusiasts, this may be your best option. At 57.25 inches by 48.25 inches, it's roomy, and has bench seating and storage on two sides. While it is more expensive than many of our other options, it is built to last with weather-resistant wood, and includes a plastic liner that helps keep out bugs and moisture. It also includes a roll-up mesh cover that provides roof and wall coverage, and features two windows. 
This is ideal for sandbox in warmer climates with a lot of sun exposure, and when not in use, it protects the sandbox from the elements. Its size and the privacy allowed will appeal to older kids too, making this the most flexible box available.
9
Best for Dinosaur Lovers
Digasuarus Sandbox
Kidwise
wayfair.com
$329.90
The 64-inch by 47-inch sandbox is designed with dinosaur enthusiast in mind. On the bottom of the box, 3-D dinosaur figures await discovery under the sand. It is also designed to look like a landscaping rock or boulder to blend into your backyard. 
The sandbox includes a lid, protecting the sand from rain, insects and animal. The sandbox is constructed in the U.S.A., from durable, nontoxic LLPDE plastic. Budding paleontologists will dig this; it's designed for ages 24 months and up.
10
Most Durable
Octagon Wooden Sandbox
CREATIVE CEDAR DESIGNS
amazon.com
$142.99
$108.90 (24% off)
This sandbox doesn't have a lot of bells and whistles, but it is roomy and built to endure years of happy use. The octagonal box has wide seat boards built in, and is 84 inches long and 78 inches wide, making it a great option for big families. It was designed for kids ages 3 to 12. 
A durable, eco-friendly polyethylene cover is included. Reviewers are enthused about the ease of setup, the "huge" play area, and the quality of the cedar plank wood.
This content is created and maintained by a third party, and imported onto this page to help users provide their email addresses. You may be able to find more information about this and similar content at piano.io
Advertisement – Continue Reading Below
Most Related Links :
todayuknews Governmental News Finance News