world-News
Bizarre "blood sacrifice" conspiracy theory spreads after Travis Scott concert tragedy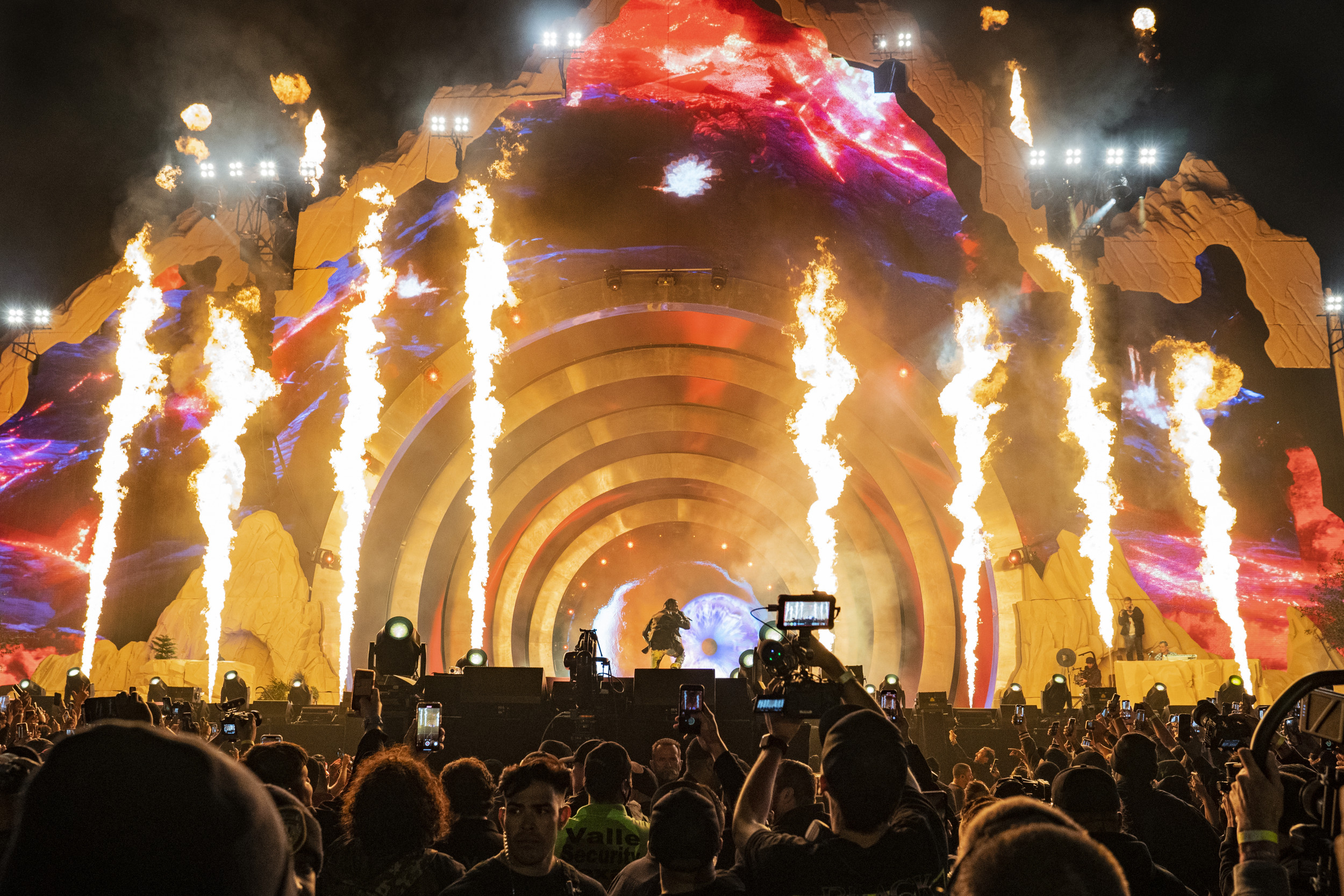 While events that occurred at Astroworld festival in Texas over the weekend have been widely described as "hellish" by attendees, a number of conspiracy theories have cropped up which claim that the concert was some sort of "blood sacrifice."
At Travis Scott's Astroworld music festival in Houston on Friday night, at least eight people died and dozens more were injured as crowds surged toward the stage. Two teenagers, aged 14 and 16, are among those who died.
Several videos from attendees have been circulating on social media that show the rapper appearing to not stop the show despite witnessing people passing out and medical staff attempting to revive people.
However, during a livestream of the performance, he could be seen stopping several times, calling on someone to help people who had passed out in the crowd.
The disturbing scenes have seen people claim that the concert was a "blood sacrifice" as much of Scott's promotional material is centered on demonic imagery and symbolism.
At Astroworld this year, the 30-year-old performed on a stage styled like the gates of hell while revelers entered the gig through a large sculpture of his mouth which has been likened to the famous "Christ in Limbo" painting by Hieronymus Bosch which depicts the "mouth of hell."
Many people have also pointed out that the slogan for the festival was "See you on the other side" which has not aged well due to the deaths that occurred.
Podcaster Isaac Weishaupt explored this conspiracy on the latest episode of his podcast Conspiracy Theories and Unpopular Culture.
"So here's the temple grounds of Astroworld, the place where they they're telling you flat out you're about to enter a new realm, a new dimension. And here's your rapper, gods, and we're going to make a sacrifice to the gods," Weishaupt says.
While on Twitter, many people are also using phrases like "demonic ritual" and "blood sacrifice" to describe Astroworld.
"Bro that s***was a concert in hell.. illuminati blood sacrifice type shit Travis Scott sacrificed so many lives tonight by not stopping that fucking show that shits demonic. #AstroWorld," reads one tweet.
While another added: "Travis Scott sold his soul to the devil. Astro World was a BLOOD SACRIFICE. He took 8 innocent lives to pledge his allegiance to the occult elite. "He didn't do it om purpose!" SO WHY IS HE SINGING AS THEY CARRY OFF A DEAD BODY THEN?!? #AstroWorld."
Scott released a statement on Sunday saying he was "absolutely devastated" about the tragic events that unfolded at Astroworld.
"My prayers go out to the families and all those impacted by what happened at Astroworld Festival. Houston PD has my total support as it continues to look into the tragic loss of life," Scott tweeted on Saturday.
"I am committed to working together with the Houston community to heal and support the families in need. Thank you to Houston PD, Fire Department and NRG Park for their immediate response and support. Love you all," he added.
The incident remains under investigation.
The New York Times reports that Scott was visited by the Houston police chief before his show on Friday who shared concerns about the crowd.
Most Related Links :
todayuknews Governmental News Finance News