Sports
What does the future hold for the Big 12 schools left behind?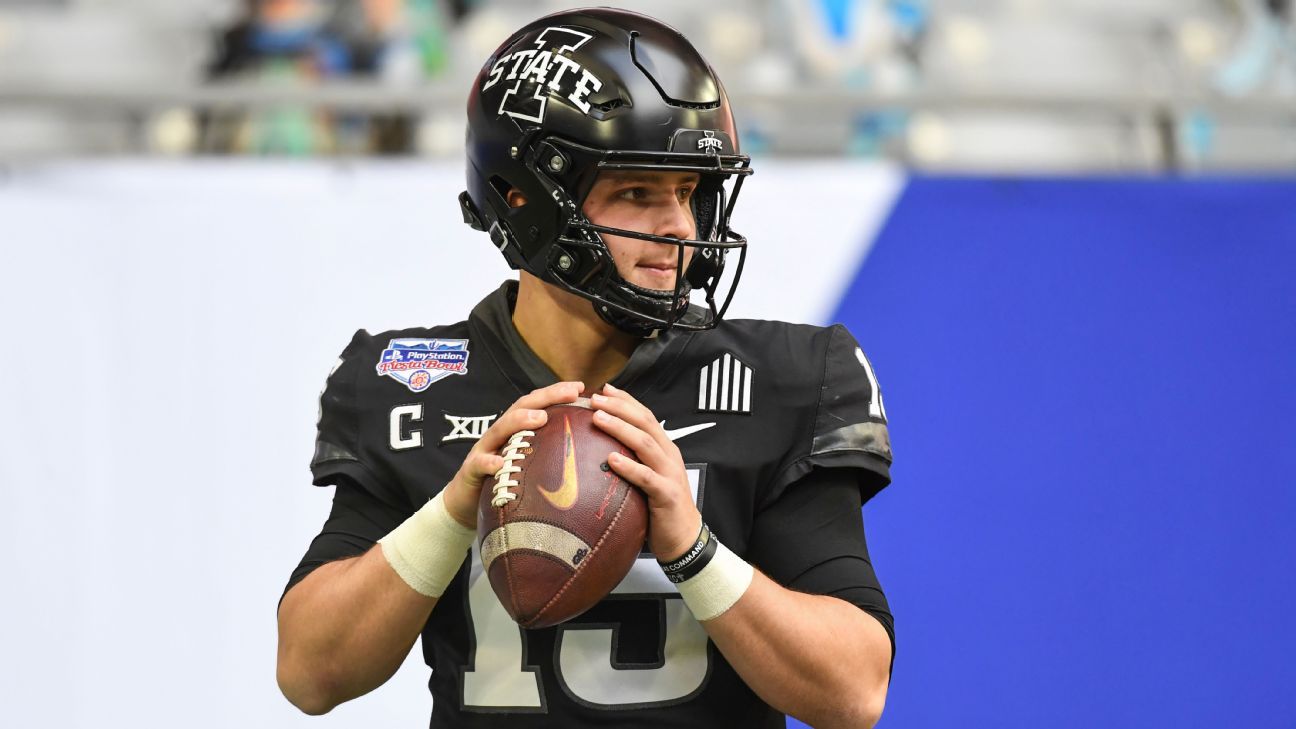 Earlier this month, when conference leaders across the Big Ten, Pac-12 and ACC began to discuss the possibility of a partnership — a concept that could ultimately provide some stability by preventing those leagues from poaching each other's teams while adding a scheduling component — the Big 12 was excluded, another perceived snub to the eight teams working to figure out their futures.
"No one can give anybody a clear answer as to what's this all about, why did they leave the Big 12 out?" one source said.
"Why wasn't the Big 12 included? Because we had already been poached," one source in the conference surmised.
With Big 12 co-founders Oklahoma and Texas ultimately bolting for the SEC by July 1, 2025, and the ACC, Big Ten and Pac-12 forming an alliance, multiple sources in the Big 12 told ESPN the remaining eight schools aren't in a rush to make a move but that they are considering eventually adding teams to make the Big 12 relevant enough to negotiate a lucrative television contract — while realizing everyone needs a Plan B.
It's a tightrope walk between preserving the Big 12 and self-preservation among individual conference teams.
"I think the eight continue — both on the president and AD level — continue to be together, and all of the ongoing conversations, a commitment to one another," Baylor athletic director Mack Rhoades told ESPN in an interview before the alliance was formally announced. "I do think there's a pathway for the Big 12 to be vibrant. We're spending time right now really focused and working on what that pathway is or what those couple pathways are."
The reality is that nobody is expecting the Big 12 to add any teams from the other four major conferences — especially with the creation of the alliance, and the SEC becoming the country's first 16-team superconference. That doesn't mean, though, that a Power 5 conference can't or won't offer to snag any of the remaining Big 12 teams. The Pac-12 appears to be the X factor, as the league's current television contract expires in 2024, and first-year commissioner George Kliavkoff hasn't ruled out expansion — yet.
It's unclear if Kliavkoff sees value in expanding the Pac-12's footprint into Texas, where Baylor, TCU and Texas Tech would almost certainly at least entertain an offer. It might not be a stretch to say the future of the Big 12 rests in the Pac-12's hands. If the Pac-12 opts to add any Big 12 schools, the rest of the Big 12 would more than likely dissolve, forcing the remaining schools to scatter to the Group of 5.
"We'll announce a decision on whether or not we're going to be looking at expansion before the end of this week," Kliavkoff told ESPN on Tuesday. "That decision has been run on a parallel path to the conversations with [Big Ten commissioner] Kevin [Warren] and [ACC commissioner] Jim [Phillips] and the Big Ten and the ACC."
The looming concern in the Big 12 is, what happens if the league can't make itself whole again — and there's no Power 5 landing spot for its members?
"We better all be committed to making this Big 12 — whatever it looks like — the best dang conference that we could possibly be," one source said.
Nobody knows what that might look like or when, but difficult conversations are happening now. Until everyone knows exactly when Oklahoma and Texas will leave, hypotheticals will outweigh answers.
"There definitely are pathways and opportunities forward for us to review and take advantage of, but at the same time not to overreact," said Texas Tech athletic director Kirby Hocutt in a brief interview prior to the alliance announcement. "I think we're in a very delicate situation. While [Oklahoma and Texas] have given us their word that they plan to remain a member of our conference through the '24-25 academic year, it continues to feel like a very fluid situation."
As it becomes increasingly clear the Big 12 is unlikely to add other Power 5 teams to its membership, the speculation naturally turns to the Dallas-based American Athletic Conference. Last season was the fifth time in seven seasons of the playoff era that the AAC was represented in a New Year's Six bowl, and Cincinnati earned the league its fourth top-10 finish in eight seasons.
AAC commissioner Mike Aresco told ESPN on Monday he has not spoken to any Big 12 athletic directors about realignment.
"I haven't," Aresco said. "I never did before. We're not doing that."
Similarly, Mountain West Conference commissioner Craig Thompson told ESPN on Monday his message to his conference has been, "We've got a good league, we're solid."
"We don't have to do anything now," Thompson said. "Now, if someone were to go to another league, then we'd need to be prepared. I've taken phone calls from numerous presidents and athletic directors expressing interest in the Mountain West, if we were to ever expand or need to change our membership."
Thompson said his conference has a lot of parallels to the Big 12, noting the history of football that's embedded in some schools.
"Geographically, in playing the people you want to play," he said. "Historically, the people you've known and played for 100 years. There's nothing broken. Are there better opportunities? Could be. There was a better opportunity for TCU. There was a better opportunity for Utah. Time will tell."
Without specifying where the Big 12 might look for new members, one league source said there doesn't seem to be an "immediate sense" in adding teams.
"If we add anybody, does it have to be everybody at once?" the source said. "Maybe it's one and we pause and we see what plays out. Maybe it's two. Those are the conversations that are happening, and at the core of this it has to be football relevancy."
That's not to say the Big 12 is going to forget about other sports, but officials acknowledge college football is the driving force of the revenue in regard to television contracts, the College Football Playoff and the Sugar Bowl, which has a contractual agreement with the Big 12 through 2025-26.
Jeff Hundley, CEO of the Allstate Sugar Bowl, told ESPN on Tuesday that when the bowl entered the agreement with the Big 12 it made some "pretty serious financial commitments based on the existing makeup" of the conference.
"We certainly relied on the current constitution of the Big 12," he said, "and we're committed to the financial arrangement that exists for our gain, which is significant, and greater in terms of guaranteed money than any of the other six games have right now."
Hundley said the Sugar Bowl is taking a "patient posture" right now because of the public commitment by Texas and OU to honor their grant of rights contract. West Virginia athletic director Shane Lyons said the Big 12 would be wise to do the same.
"When you panic, you make horrible decisions," Lyons said. "So let's not panic. We have time. … Let's see how this thing unfolds in the next six months. What does the constitution committee do? Does that change things? There's just a lot of uncertainty right now. We're still 10 member institutions for four more years."
If that.
The uncertainty is why the Big 12 wasn't included in the alliance discussions.
"At the time that we got together, there was great instability," ACC commissioner Jim Phillips told ESPN on Tuesday. "Is the Big 12 going to be together? Are they going to join another conference? Are they going to lose members? What is the end game? And then I think the three of us felt like we had stability in our leagues."
In spite of excluding the Big 12, the three commissioners involved in the alliance took time on Tuesday to laud Big 12 commissioner Bob Bowlsby for his work, and stress the importance of the league.
"Let me put it directly," Phillips said. "We want and need the Big 12 to do well. The Big 12 matters in college athletics. The Big 12 matters in Power Five athletics, and our FBS group. And so I can just tell you that we'll be watching what occurs here and obviously this transition isn't supposed to be taking place for another four years."
One thing is clear: The Big 12 is on its own to figure it out.
"At the end of the day, will [the alliance] impede the progress of the Big 12? Will that prohibit the Big 12 from being vibrant in the future?" Rhoades asked. "I really don't believe it will. I think the Big 12 has valuable institutions in a lot of the different ways you measure them — both certainly academically and athletically — and I really do believe there will still be a place for us."
Most Related Links :
todayuknews Governmental News Finance News