ECONOMY
U.S. Exceeds 500,000 Deaths; U.K. Reopening Plan: Virus Update
(Bloomberg) — A half-million Americans are dead as a result of the novel coronavirus that first hit U.S. shores just a little more than a year ago. President Joe Biden marked the "truly grim, heartbreaking milestone" during a ceremony at the White House.
U.K. Prime Minister Boris Johnson declared the end of the pandemic is "in sight" for England, as he set out his aim to ease lockdown rules in a series of stages over the next four months.
New findings in the U.K. show that shots provide a high level of protection against infection and illness after a single dose. The U.S. said drugmakers won't have to perform giant efficacy trials for new vaccines or booster shots developed to combat new variants.
Subscribe to a daily update on the virus from Bloomberg's Prognosis team here. Click CVID on the terminal for global data on cases and deaths.
Pfizer Vaccine to Arrive in Hong Kong (11:45 a.m. HK)
The Pfizer Inc.-BioNTech SE vaccine procured by the Hong Kong government will arrive in the city as soon as Thursday, HK01 reported, citing unidentified sources.
Thailand Approves Sinovac Vaccine (10:59 a.m. HK)
Thailand's Food and Drug Administration has approved Sinovac Biotech Ltd.'s Covid-19 vaccine for local emergency use ahead of the launch of a national inoculation program.
The country, which aims to inoculate 50% of its population by the end of this year, has already approved AstraZeneca Plc's vaccine for emergency use.
Japan Eyes Emergency End Outside Tokyo (8:52 a.m. HK)
Japan is planning to lift the state of emergency outside the Tokyo area earlier than planned, with falling numbers of coronavirus cases easing the strain on hospitals, local media reported Tuesday.
The government is considering lifting the emergency in six prefectures including Osaka and Kyoto at the end of the month, a week earlier than the planned end date of March 7, according to reports. The decision could come as soon as Friday.
Mumbai Cautioned With Lockdown Threat (8:20 a.m. HK)
The chief minister of the Indian state of Maharashtra, which includes the financial capital of Mumbai, warned that new regional localized lockdowns could be imposed after the number of daily Covid cases rose to almost 7,000 on Sunday, accounting for about half the entire country's reported infections.
Uddhav Thackeray said that he will monitor the situation in the state over the next two weeks and would impose movement restrictions if mask wearing rules weren't being followed. So far India has avoided a large-scale second wave since a September peak of nearly 100,000 cases a day. The country began its vaccination drive last month, but with only 11 million people inoculated so far, is lagging behind a target to inject 300 million people by August.
New Zealand Reports New Community Case (8:18 a.m. HK)
New Zealand reported the ninth case linked to an outbreak in Auckland. The new community case is a contact of a previously identified case, the Ministry of Health said in a statement.
Argentina Vaccine Scandal Widens (8:04 a.m. HK)
Argentina's government released the names of dozens of officials and allies who secretly got vaccinated against Covid-19 in an apparent violation of the country's guidelines, attempting to contain a growing political scandal.
The list of about 70 people disclosed on Monday by the government includes leaders from the ruling Peronist party, mid-level government officials and family members who received the shots. The release comes after President Alberto Fernandez fired his health minister, Gines Gonzalez Garcia, on Friday, when the preferential access to the vaccine was made public.
Biden Marks 500,000 U.S. Virus Deaths (7:30 a.m. HK)
President Biden marked "a truly grim, heartbreaking milestone" of 500,000 Americans killed by the coronavirus during a candle-lighting ceremony Monday at the White House.
"That's more Americans who've died in one year in this pandemic than in World War I, World War II and the Vietnam War combined," Biden said in a televised address before the ceremony. "That's more lives lost to this virus than any other nation on Earth."
Moderna Gets Positive Feedback on Dose Shift (3:50 p.m. NY)
Moderna Inc. has received positive feedback from U.S. regulators on a proposal to expand the number of doses of its Covid-19 vaccine in each vial, the company said, a move that could help expand supplies.
In prepared testimony for a Congressional hearing on Tuesday, Moderna said the U.S. Food and Drug Administration could allow it to put as many as 15 doses of its Covid-19 shot into each vial. Currently, its vials hold 10 doses.
NYC Movie Theaters to Reopen at 25% (3:10 p.m. NY)
Movie theaters in New York City will be allowed to open starting on March 15, Governor Andrew Cuomo said Monday.
Theaters can open at 25% capacity, with no more than 50 people per screening, he said during a virus briefing. Masks must be worn, and assigned seating will be required, Cuomo said. The theaters must be properly ventilated as outlined in state health regulations, he said.
Cinemas have been allowed to operate at limited capacity in other parts of the state.
Connecticut Lowering Vaccine Age to 55 (2:50 p.m. NY)
Connecticut Governor Ned Lamont said the state will expand vaccine eligibility to people between the ages of 55 to 64 on March 1. Eligibility will expand by age tiers in the following weeks: ages 45 to 54 would be eligible March 22, age 35 to 44 on April 12 and 16 to 34 on May 3.
FDA Outlines Faster Path for Variant Shots (1:20 p.m. NY)
Drugmakers won't have to perform giant efficacy trials for new vaccines or booster shots developed to combat new variants of the coronavirus, the U.S. Food and Drug Administration said.
In documents released by the agency Monday, it said a determination of effectiveness for new vaccines against variants should be based on so-called immunogenicity studies, in which researchers give vaccines to people and then conduct lab tests to measure the immune response the vaccine produces in their blood. These tests, similar to what is done for annual flu shots, are far simpler to conduct than the massive efficacy studies needed for clearance of the initial vaccines.
Cuomo Tours Vaccine Megasite in Brooklyn (12:05 p.m. NY)
New York Governor Andrew Cuomo touted the state's largest community-based coronavirus vaccination site at Medgar Evers College in Brooklyn, which will serve one of the areas hardest hit by the pandemic.
The site will open on Wednesday, and appointments during the first week of operations will be reserved for those living in areas with low vaccination rates, Cuomo said. It's part of an effort to fight vaccine hesitancy and bring the shots to communities underserved by traditional health-care institutions. The site will administer 3,000 vaccines a day, for a total of 21,000 a week, he said.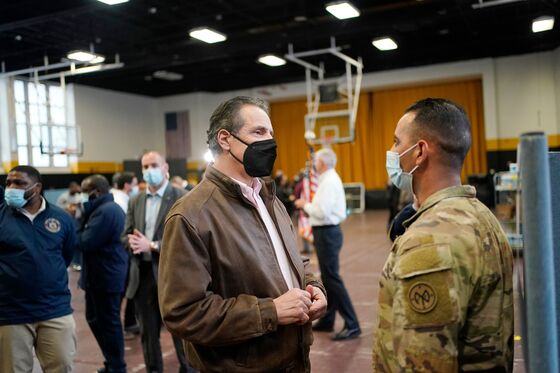 Puerto Rico Allows Some Schools to Reopen (11:30 a.m. NY)
Puerto Rico Governor Pedro Pierluisi signed an executive order Monday allowing schools that meet certain criteria to resume in-person classes starting March 1. In a press conference, Pierluisi said schools would have to be certified by the Health Department, guarantee social distancing and operate at no more than 50% capacity in order to reopen. The Education Secretary will announce which of the island's schools are eligible to reopen Thursday.
Johnson Sets Plan for June U.K. Reopening (10:40 a.m. NY)
U.K. Prime Minister Boris Johnson pledged to reopen England's stores and outdoor hospitality from mid-April, as he set out his aim to fully restart the economy from June 21.
In a statement to Parliament, Johnson set out four steps to carefully reopen the country after its lockdown, warning there would need to be at least five weeks between each to judge the impact on infections and deaths.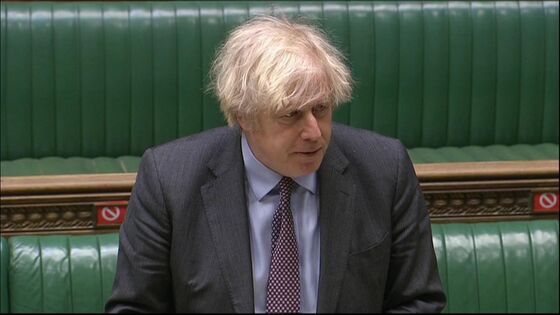 Johnson is already facing pressure to move faster, after the economy endured its worst recession in more than 300 years. Government guidance asking people to work from home where possible will remain in place for another four months, and the request will be examined as part of a review of social-distancing measures.
Vaccines Show Positive Results After 1 Dose (10:35 a.m. NY)
New findings in the U.K., the first country in the western world to roll out Covid-19 vaccines, show the shots provide a high level of protection against infection and illness after a single dose.
Initial data in medical workers show one dose of the Pfizer Inc. and BioNTech SE vaccine reduces the risk of infection by more than 70% — or 85% after the second dose — according to Public Health England. The findings suggest the shot helps interrupt transmission, yet it's unclear how much, officials said.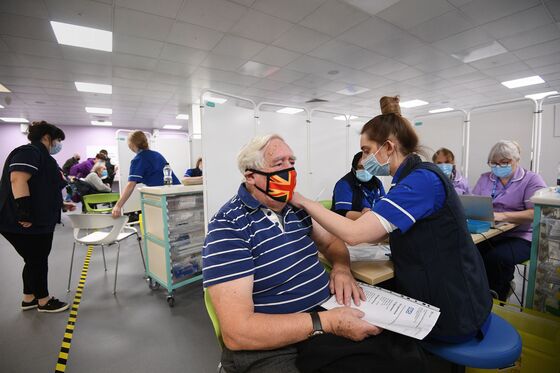 Most Related Links :
todayuknews Governmental News Finance News