Banking
Chris Cummings discusses sanction development and economic warfare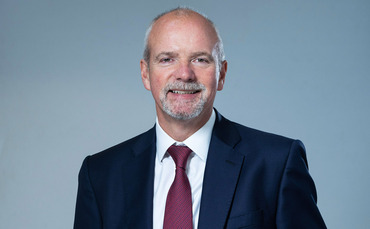 Investment Week spoke to Chris Cummings, chief executive of the IA, about the sanctions process, what next for the industry and potential ripple effects.
"This is one of those times where when people say to me: does the government listen to investment management?" the chief executive began in a call in late March.
The answer in this situation was a resounding 'yes'.
The fog of war: Lasting implications of Russia-Ukraine conflict
The first set of UK sanctions associated with the crisis were imposed at the end of February and included travel bans, asset freezing of three Russian oligarchs and freezing assets of a number of banks. However, as the days and weeks progressed, the list of sanctions became more robust.
Part of the problem with the ongoing development of these sanctions was looking behind the text to what they meant in practical terms.
"We are helping write the detail behind the rules," Cummings explained. "And how the sanction legislation is applicable, looking at things such as what does the definition of 'Russian' actually involve."
He noted there was a "substantial level of interest" from the government about how to increase the sanctions regime to work but not penalise the industry.
Cummings explained there are three levels when it comes to sanctions and investment: future business, inflight business and current investment.
He said several discussions with the city minister and the chancellor revolved around "knotty issues", which were generally around "in-flight business and things such as clearing and settlement and counterparty risk issues".
Another complicated topic has been about the chancellor's calls for divestment.
On 13 March, Rishi Sunak called on firms to "think very carefully" about any investments that would in any way support Putin's regime. Cummings said this subject has given rise to multiple discussions.
The first point is that Russia kept its stock market closed for three weeks and while it is now open with some restrictions, there are still challenges.  
"Who are we going to sell these assets to? The Russian government is not an option and neither are many other entities because of sanctions," he said. "There are potentially worrisome buyers who may want the assets, but that could be problematic for the industry as future sanctions are introduced." 
The chief executive went on to note that the Financial Conduct Authority has been "fulsome in reminding the industry that if you are approached by someone looking to buy those assets then you should be reporting them for potential sanction breaches". 
A further consideration when it comes to divestment is firm's duty to clients, he noted.
"We also have to get the outcome for our clients and a hurried divestment risks us achieving that."
Prior to the announcement, and following it, most firms have written down their Russian assets to zero. Many have announced their intention to divest as soon as it is possible to do so. Meanwhile, index providers took steps to remove Russian securities from their indices.
What next?
In the days following the Chancellor's message, the FCA said it was exploring the use of side pockets for funds allowing for the disposal of Russian and Belarusian assets.
Side pockets will have multiple uses including allowing suspended funds, of which there are about 20 UK domiciled products, a way out of suspension. Alongside this, they could allow new investors to enter such funds without risk of Russian exposure and allow pre-existing investors to redeem while Russian assets are kept separate.
There has been no update on the side pocket regulation since the announcement on 16 March, but Cummings said the situation is complicated in terms of which assets are ringfenced and how.
Head to Head podcast: Investing in China
"How do you ensure fair treatment of all investors, especially if you have people coming into the fund thinking that Russian assets will have a significant value in future?" he queried.
The CEO noted the use of side pockets would be to "help ensure it is the original investors who are the ones getting the value".
Ripple effects
While we are still in the midst of the crisis, Cummings expects that there will be ripple effects from the action we have already seen.
"The Russia invasion has proven that geopolitical risk is part of investment," he said. "And there is no getting away from it; that has been true forever."
Cummings expects firms will be looking at geopolitical risk more acutely in the future. Something Will Goodhart, chief executive of CFA UK, also highlighted to Investment Week recently.
Some of this may have begun as China saw "unprecedented" daily outflows following the invasion, according to data from the Institute of International Finance.
IIF researchers noted it was "too early to say if the war is driving outflows or if other factors are to blame". However, it believed the figures were "notable enough to at least raise the possibility that Russia's invasion of Ukraine may be pushing global markets to look at China in a new light."
However, Cummings cautioned too much pessimism towards the country.
"The investment industry is very keen to make sure that there is good and open international cooperation between the UK authorities and the Chinese authorities because of the interconnectedness of the two economies," he said.
"That is not something that we should give up lightly."
Most Related Links :
todayuknews Governmental News Finance News