Banking
All eyes on the Fed: Industry reacts at US inflation hits 8.5%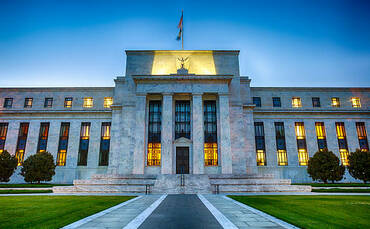 The US Bureau of Labor Statistics reported that inflation had "continued to accelerate," with gasoline prices accounting for over half of the increase, rising 18.3% in March.
The disparity between the CPI and 'core CPI' that excludes volatile food and energy price fluctuations has grown particularly wide due to the abnormal rise in fuel prices.
Hinesh Patel, portfolio manager at Quilter Investor, noted that "while used car prices and other non-essential items have begun to reach their price peak, the headline figures illustrate how much of this is an energy-related shock."
However, Ronald Temple, managing director, co-head of multi-asset and head of US equity at Lazard Asset Management, noted that "while it is encouraging to see the month-on-month Core CPI decelerate to only 30bps, we are focused on the rising cost of shelter".
"The cost of shelter excluding hotels rose 4.5% over the prior year, the largest increase since 2007, and we are seeing evidence of accelerating increases in rent across many cities. Higher rent often translates directly to higher wage demands, raising the risk of a wage-price spiral."
Market Movers Blog: UK inflation hits 7% as energy prices continue to surge
Silvia Dall'Angelo, senior economist at Federated Hermes Limited, said that she believed inflation "might have peaked this month, assuming there is no further escalation of the conflict in Ukraine and oil prices evolve in line with the future curve going forward".
However, she noted that inflation will still likely remain "sticky" for the rest of the year at least, expecting an average of 7%, due to continued price pressures. She also speculated that "inflation might eventually stabilise above the Fed's 2% target" due to structural changes in the labour market and supply chains, along with a "poorly managed green transition".
Patel agreed, adding that "this will continue for some time as oil producers remain content with where the oil price currently sits and the war in Ukraine rages on, adding pressure for further sanctions on Russian gas and oil".
The Fed
All eyes are now on the Fed as speculation has raged about tightening on a scale not seen for decades.
Patel argued that "the Federal Reserve will feel emboldened today to press ahead with its aggressive hiking of interest rates as it looks to combat inflation.
"The Fed is jawboning hard at the moment to ensure inflation does not become entrenched. They are having to combat not only the pressure of supplying too much liquidity to financial markets but also factors such as commodity prices, wage hikes and geopolitical uncertainty that they have not had together for at least 40 years. Clearly the risk of misstep is high."
Inflation continues to erase impact of wage growth
Dan Boardman-Weston, CEO & CIO at BRI Wealth Management, added "the figures will add further pressure to the Fed to accelerate the pace of interest rate increases and potentially hike by 0.50% at the next meeting, as opposed to the traditional 0.25%."
Dall'Angelo agreed, stating that the "inflation report on balance validates expectations that the Fed will hike by 50bps in May, as already suggested by recent FOMC communication.
"By the Fed's own admission, the central bank is behind the curve in its fight against inflation and is eager to catch up with larger rate hikes and the start of quantitative tightening in coming meetings – an uncertain endeavour given that monetary policy affects the real economy with lags of between 12 and 18 months, and it is not fully clear how quantitative easing works.
"While the Fed still believes they will be able to engineer a soft landing, these rarely occur, and the convergence of cost-push inflation squeezing real incomes, monetary and fiscal tightening could result in a harder-than-desired hit to demand down the line."
Most Related Links :
todayuknews Governmental News Finance News