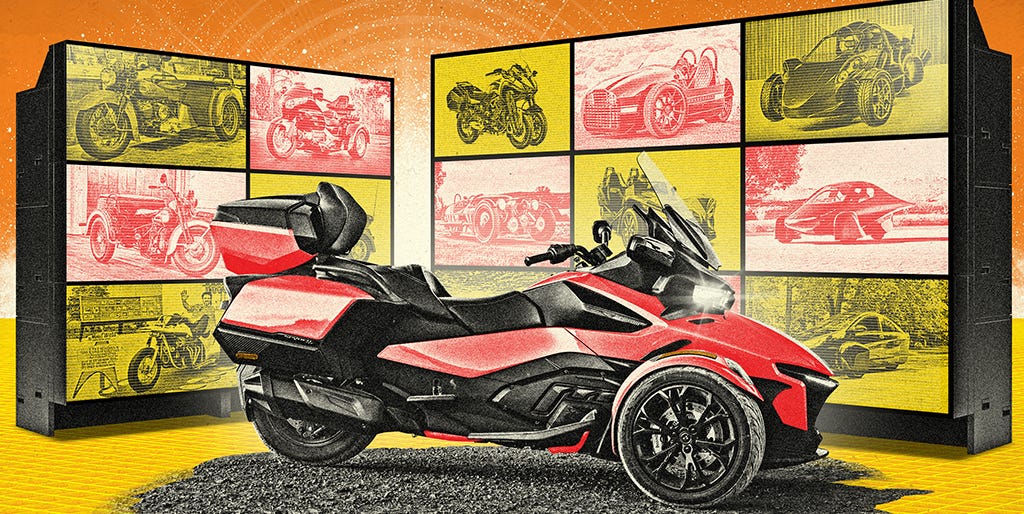 In 2007, BRP put its three-wheeled Can-Am Spyder on the market and sold 2500 units in the U.S. By 2015, it had sold 1 million units globally. In 2017, it estimated the U.S. three-wheel industry to be good for approximately 40,000 sales a year, and that industry includes competition from historic names like Harley-Davidson and Morgan. Some bikers scoff at the three-legged mechanical portmanteau called an autocycle, but they're here to stay; in 2020, BRP more than doubled its 2019 volume in the U.S.
Maybe you're considering joining the growing crowd but aren't sure which saddle to throw a leg over, here is a brief history of three-wheelers and the people who love them.
The Forebears
Indian Dispatch-Tow: Indian created its three-wheeler to help a Packard automobile dealer who didn't want to send two mechanics to deliver customer cars; he needed something a single mechanic could tow behind the customer's car, then ride back to the shop. The Dispatch-Tow went on sale in 1931 with a 45-cubic-inch V-twin and a claimed top speed of 65 miles per hour. Produced intermittently until 1952, they're usually found in museums or rotting in barns. Dispatch-Tow owners are inclined to bushy mustaches and riding in loafers. They also own an Airedale named "Champ," and a bank.
Harley-Davidson Servi-Car: Trying to outdo Indian as well as lure buyers during the Great Depression, Harley created the Servi-Car in 1932. The 45-cubic-inch, 24-hp three-wheeler was instantly successful, toiling as utility vehicles for 41 years for everyone from the military to drug store delivery boys. Servi-Car aficionados own at least one leather hat, a drawer full of black concert T-shirts, the "Band of Brothers" box set, and a period-correct costume—maybe policeman, maybe ice-cream man—to match a Servi-Car livery.
VW Trike: Hot rod legend and "Rat Fink" father Ed "Big Daddy" Roth turned a Servi-Car into the VW Trike by bolting a set of Honda forks and a seat to the 36-hp engine and rear end of a 1957 Beetle. Roth inspired a ton of copycats, the resulting horde of flamboyantly customized Wacky Races trikes hooking Elvis and Hells Angels. VW Trike riders have at least three leather vests, pasts they won't talk about to strangers, a Full Metal Jacket DVD, and a wooden bat or a crowbar christened with names we can't print.
The Reboots
Lehman, Motor Trike, and Roadsmith Trikes: Instead of turning a Beetle drivetrain into a three-wheeler, these companies started with the front end of a motorcycle and created kits to add a two-wheeled rear end. Lehman is no more, but Motor Trike and Roadsmith still convert tourers and cruisers produced by the major moto brands. The modern equivalent of owning a Bricklin kit car in the 1970s, owners keep shelves full of Yacht Rock CDs, are adored by their nieces and nephews, and have a backyard grill that costs as much as a good used car.
Harley-Davidson Tri-Glide and Freewheeler: Harley returned to the trike fray in 2009 with its Tri-Glide models. Available with a 114- or 117-cubic-inch V-twin and up to 125 pound-feet of torque, the Tri-Glide yokes a Street Glide-looking front end to a living room sectional. The Freewheeler debuted in 2015 with cruiser looks and "mini ape hanger" handlebars. Aimed at those seeking the Harley experience without having to keep 800 pounds upright, owners have easy manners, a ton of dad jokes, excellent prescription drug benefits, leather chaps over acid-wash denim, iron butts betrayed by back and knee pain, and friends who ride the two-wheelers these trikes are based on.
The Outsider
Yamaha Niken: A motorcycle version of the Piaggio MP3 500 scooter, Yamaha took its Tracer 900GT two-wheeler and put two scooter-sized 15-inch wheels up front, spaced only 16 inches apart. An 847-cc inline three-cylinder dispenses 104 horsepower and 60 pound-feet to the normal-sized rear wheel. The 600-pound Niken rides like a motorcycle, leans like a motorcycle, and will fall over like a motorcycle if you don't put a foot down at a stop. The extra contact patch up front provides superb grip in wet conditions, the trapezoidal linkage keeps both front wheels planted even on nasty ground. The Niken is best for those who regularly ride in rain, on the pro cycling World Tour, or in conflict zones, and who crave being asked, "What is that?" 38 times a day.
The Modern Autocycles
BRP Can-Am: The Can-Am Spyder debuted 14 years ago. It's a three-wheeler laid out and operated like the snowmobiles BRP also makes. The Can-Am lineup now counts three models in ten trims, engines ranging from a 600-cc Rotax with 50 horsepower and 38 pound-feet to a 1300-cc Rotax with 115 horsepower and 96 pound-feet. Feels like a moto up high, rides like a car down low, offers a semi-automatic transmission and a brake pedal that works on all three wheels. Owners want gnats in their teeth, but also stability and tons of storage, and have a fetish for 12-in-1 appliances like the Bacon Press & Griddle.
Morgan 3 Wheeler: This one ends production in 2021 while Morgan tools up a new version with a European-emissions-compliant engine. We're including it because Morgan is the king of the old school, having built three-wheelers from 1909 to 1953, then resuming the trade in 2011. The model from Malvern, England came with a scone and a flat cap, and was the only three-wheeler that allowed a white-scarfed driver to say, "Tut tut!" and not be ignored or beat to a pulp.
Vanderhall: The Provo, Utah company puts out autocycles named after iconic California locales. Built on monocoque aluminum chassis, all but one trim of the Venice and Carmel are powered by a GM-sourced 1.5-liter four-cylinder with 194 horsepower and 203 pound-feet. The battery-electric Edison is motivated by two 70-hp electric motors. Owners played water polo in college, still wear sun visors, have Yellow Labradors with matching goggles, and both owner and dog are named "Chip."
The Wild Ones
Polaris Slingshot: If the Slingshot had one more wheel, it would be a KTM X-Bow. Infinitely customizable and so low it could "high center on a hickory nut," as one commenter put it, Polaris unveiled plenty of updates for 2021. These include a new, in-house 2.0-liter four-cylinder producing up to 203 horsepower and 144 pound-feet and paddle shifters. Slingshot owners are the Lamborghini buyers of the three-wheeler world, therefore they have never met a neon hue, an aftermarket mod, or a mirror they didn't like. Someone somewhere is working on a scissor door kit for this.
Campagna T-Rex: The T-Rex line features Italian carbon fiber bodywork, German and Japanese engines, intergalactic prices. The entry-level T-Rex 16S is powered by a BMW-sourced 1.65-liter inline-six-cylinder with 160 horsepower and 129 pound-feet and starts at $59,999. Stepping up to the T-Rex RR gets a Kawasaki 1.44-liter inline-four-cylinder with 200 horsepower and 116.5 pound-feet and costs $65,999. If the Slingshot is a Lamborghini, this is a Cizeta Moroder V16T. Owners have a lot of money, too many cell phones, a tequila collection, a pet alligator by the infinity pool, a suite at a hotel in town, and sixteen copies of Scarface.
The Wishful Thinkers
Elio Motors and Aptera: Both were founded more than ten years ago promising vastly efficient three-wheelers, both have never sold a vehicle. We're not saying they won't ever sell vehicles, but prospective owners do tend to have pockets full of Pokémon cards and believe Pikachu is real.
This content is created and maintained by a third party, and imported onto this page to help users provide their email addresses. You may be able to find more information about this and similar content at piano.io
Most Related Links :
todayuknews Governmental News Finance News